21 auto parts companies will partner with the Ontario government to adopt new hardware and software and training with the goal of improving automotive supplier competitive. Under the appropriately named "Automotive Competitive Improvement Program (ASCIP) the projects funded include:
Investment in special planning and management software that helps companies manage workflow, inventory and tenders for projects

Advanced 3D scanning and printing technology that facilitates the design and fabrication of more complicated components

Computer Aided Design (CAD) and custom robotics systems that reduce costs and improve quality.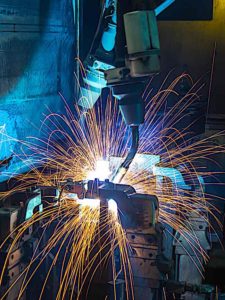 "The automotive parts sector is a key economic driver for Ontario and highly competitive globally," said Dr. Tom Corr, President and CEO of Ontario Centres for Excellence. "The innovative projects funded through the Automotive Supplier Competitiveness Improvement Program will help Ontario companies adopt new technologies and drive operational excellence to maintain Ontario's position in the global supply chain."
The auto parts companies the province is partnering with on these projects are among the hundreds of Ontario businesses that play an integral role in the North American automotive supply chain. The auto sector is a critically important part of Ontario's economy, and its success relies on free trade and open borders. The province will continue to protect Ontario auto workers in the face of uncertainty and defend Ontario's position in the North American automotive sector.
"Our members recognize that continual investment in productivity and innovation is essential to meet the challenges of increasingly complex vehicles and intense global competition," said Flavio Volpe, President of the Automotive Parts Manufacturers' Asssociation. "The Automotive Supplier Competitiveness Improvement Program supports the technology and process upgrades that will help keep Ontario's automotive supply chain strong."
$6.5 million invested
Ontario is investing $1.8 million through the ASCIP program, with costs shared by the companies receiving the boost to the tune of $6.5 million.
"These projects will help keep Ontario's auto parts sector at the leading edge of product innovation and industry competitiveness," said Brad Duguid, Minister of Economic Development and Growth. "Effective partnership between industry and government is essential to supporting constant innovation and training to stay ahead in the globally-competitive auto sector."
The auto parts sector for Ontario is a crucial industrial segment. The Ontario government, in a release, wrote:
Ontario is the only subnational jurisdiction in North America with five global automotive assemblers — Fiat-Chrysler, Ford, General Motors, Honda and Toyota — as well as truck manufacturer Hino.
The auto parts sector
Ontario is a leader in auto parts:
The province's auto assembly plants are supported by an advanced and integrated Ontario supply chain that comprises over 700 part suppliers and over 500 tool, die and mould makers.
Vehicle assembly and auto parts production directly supports more than 100,000 jobs in Ontario, with hundreds of thousands more spin-off jobs across the province.
Ontario assembly plants produced almost 15 per cent of North American vehicle production over the last 5 years.