A major iron ore mining project being planned by Alderon Iron Ore Corp. has reached final agreement with the government of Newfoundland and Labrador to proceed. Alderon signed a Benefits Agreement with the province regarding the Kami Iron Ore Project in western Labrador. The agreement, according to a statement from Alderon, covers the construction, operation and decommissioning phases of the project, setting out employment, procurement and training benefits. Provincial residents and suppliers are to be given first consideration. The Kami project will also be required to establish an education and training fund once commercial production begins.
The necessary mining lease, giving the Kami LP exclusive rights to develop the iron ore, has been issued by the province's Department of Natural Resources. A surface lease, covering the entire footprint of the mine and its infrastructure has also been issued.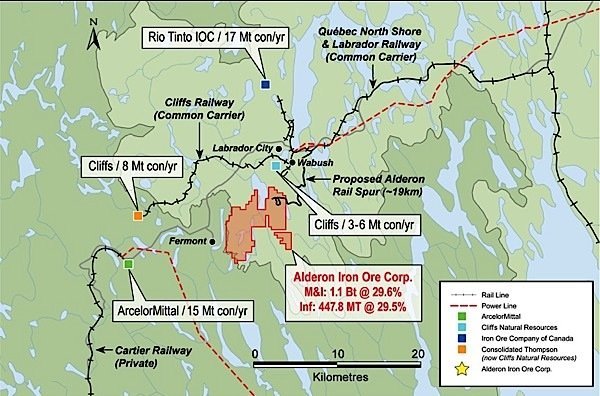 "The Agreement secures significant long-term benefits for the people of Newfoundland and Labrador, infusing billions of dollars into the provincial economy and creating direct employment for 800 workers at the peak of construction and 400 during the operations phase," said Tayfun Eldem, Alderon President and CEO. "By finalizing this Agreement and receiving the Leases, we have met all the conditions of release from both the Federal and Provincial environmental assessment processes. Once the financing plan is complete, we will be ready to commence construction."
The agreement also includes a Gender Equity and Diversity Plan which addresses the issue of employment and business access for four groups identified as under-represented: women, visible minorities, Aboriginal peoples, and persons with disabilities. Alderon has also agreed to hire more skilled trades apprentices to work on the project.
The company will decide by the end of September whether the project will proceed this year. An additional $1.5 billion needs to be secured in funding before construction can begin.
The Kami project is located near Wabush and Labrador City. There are four other iron ore producing mines in the area, accounting for most of Canada's iron ore output. A new export facility, currently under construction at the port of Sept-Iles in Quebec, will be utilized by the Kami project.
If construction begins this year, production could begin in 2016. Full capacity production at the mine is estimated at 8 million tonnes per year with an estimated mine life of thirty years. It has the potential to add as much as $25.4 billion to Newfoundland and Labrador's GDP, the company says.