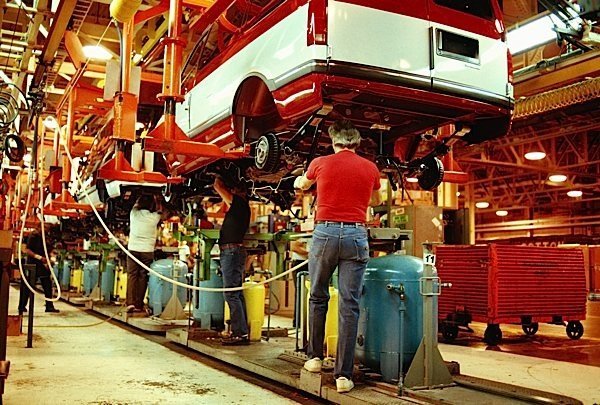 Production capacity in Canadian industries rose slightly in the fourth quarter of 2014, reaching 83.6 per cent, Statistics Canada reports, continuing an upward trend that began in 2013. The production capacity rate the previous quarter was 83.2 per cent. The industrial capacity utilization rate is the ratio of an industry's actual output to its estimated potential output.
The oil and gas extraction industry was mainly responsible for the rise in the capacity rate in the fourth quarter. Higher volumes of oil and gas extraction pushed the rate for the industry up 1.8 per cent, to 88.8 per cent. Electric power generation was also up strongly, rising 1.7 per cent to 85.4 per cent of capacity.
In the construction industry, the rate rose for the third straight quarter, from 84.8 per cent to 85 per cent, due to increased residential construction.
The manufacturing industry operated at 83.7 per cent of its capacity in the fourth quarter, largely on the strength of machinery and transportation equipment manufacturing. Machinery manufacturing rose 1.6 per cent on increased production of industrial machinery. The transportation equipment industry rose to 94.1 per cent capacity in the fourth quarter on the strength of cars and trucks and car parts.
The forestry and logging industry saw reduced activity in the fourth quarter and the capacity utilization rate fell 3.8 per cent to 78.4 per cent.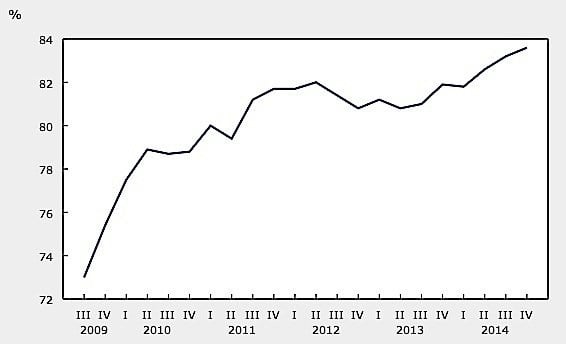 The average annual rate for all industries in the year 2014 was 82.6 per cent, an increase of 1.6 per cent over 2013. In manufacturing industries, the increase over the previous year was 2.4 per cent. This more than offset a 1.2 per cent decline in 2013, Statistics Canada says. Three of the twenty-one major manufacturing groups—electrical equipment, appliances and components; miscellaneous manufacturing; and primary metal—saw average utilization capacity rate fall in 2014.
Employment little changed in February
Meanwhile the employment picture in Canada was little changed in February. Statistics Canada reports that the unemployment rate rose, however, by 0.2 per cent, to 6.8 per cent as more people searched for work. In the twelve months to February, employment increased by 130,000, most of that growth in the second half of the year. Ontario's manufacturing sector was the biggest loser in February. There were 20,000 fewer workers in manufacturing in February, most of the losses in Ontario and Alberta. Natural resources industries also experienced big losses with employment declining by 17,000 in February. Most of those losses were in Alberta and British Columbia.
Other sectors that saw gains included construction, up 4.1 per cent, educational services, up 5 per cent, public sector, with an increase of 24,000. The number of people working in construction in February was 4.1 per cent higher, with 56,000 more workers added over the past twelve months.