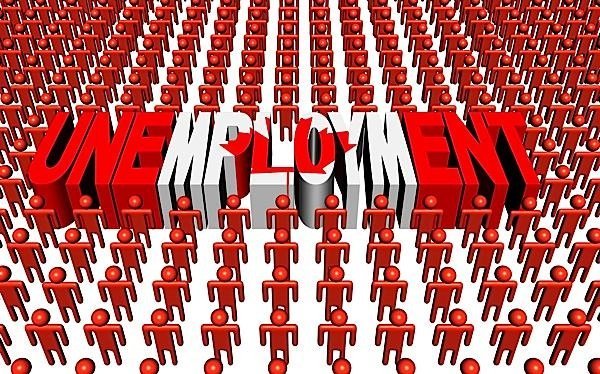 For the first time since 1988, Alberta's unemployment rate in January was higher than the national average, Statistics Canada reports. After losing 10,000 more jobs in the month, Alberta reached an unemployment rate of 7.4 per cent. The national rate was 7.2 per cent. In the rest of the country, job losses amounted to 5,700, which Statistics Canada records as 0.0 per cent. In the twelve months to January, employment increased by 0.7 per cent, with 126,000 jobs added. However, the labour force grew faster, with the result that the unemployment rate rose from 6.6 per cent to 7.2 per cent.
Ontario was the only province where employment grew, adding 20,000 jobs in January. Over the last twelve months, Ontario has added 100,000 jobs, an increase of 1.5 per cent, Statistics Canada says. The unemployment rate in Ontario was unchanged at 6.6 per cent.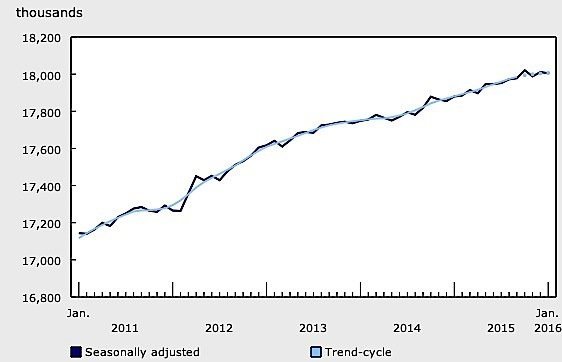 Coincidentally, on the same day as Statistics Canada released its job market report, BlackBerry Ltd. of Waterloo, Ontario, announced 125 layoffs as it strives to return to profitability. The software and phone maker has cut about two-thirds of its workforce since 2011. It is now focusing on software for business rather than handsets, and reported a revenue increase for the quarter ended November 28. It was the first increase in nine quarters.
Elsewhere in Canada, declines were seen in the number of people working in manufacturing, agriculture, transportation and warehousing, and public administration. Employment in information, culture and recreation, and in "other services" increased. Public sector workers increased in number by 59,000 compared to one year ago, mainly in health care and social assistance.
Commenting on the employment numbers, BMO senior economist Robert Kavcic noted that Canada has created roughly 9,000–10,000 jobs in each of the last six months. While that is low historically, "it's not terrible" considering the oil shock the economy has been dealing with.
In the US, meanwhile, the jobless rate is now at an eight-year low of 4.9 per cent. The country added 151,000 jobs in January. Despite the positive employment numbers, there are worries that the US economy is under-performing. GDP growth for the fourth quarter of 2015 was just 0.7 per cent. The country's manufacturing sector is also contracting, according to monthly surveys by the Institute for Supply Management. How the US economy performs is strongly linked to the strength of Canada's exports.