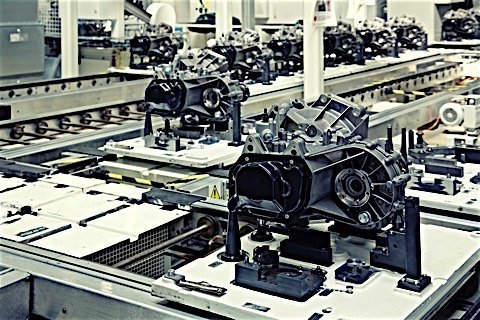 Canada's employment picture was little changed in May, reports Statistics Canada, with a slight increase of 0.1 per cent, representing 14,000 jobs—61,000 new full-time jobs offset by a loss of 47,000 part-time jobs. The unemployment rate declined 0.2 percentage points, to 6.9 per cent, the agency said, as fewer people were searching for work. Most of the new jobs, 45,000 in all, were for people 55 and older, both men and women. In the age group 25 to 54, employment was virtually unchanged, while those younger than 25 lost ground. Employment among those aged 15 to 24 fell by 35,000, for an unemployment rate of 13.3 per cent.
By industry, employment was up in the "other services" category which includes professional services and household-related employment; in public administration; in construction; in educational services; and in manufacturing. Employment declined in wholesale and retail trade; in health care and social assistance; and in natural resources. Employment in natural resources has declined by 37,000 (down 10.4 per cent) in the twelve months to May, Statistics Canada says. The majority of job losses have been in Alberta.
Ontario and Quebec both saw employment growth of 22,000 in May. In Ontario, that brought the jobless rate down to 6.6 per cent. In its latest provincial economic outlook, the Conference Board of Canada calls for BC and Ontario to lead the country between now and the end of 2017, with forecast GDP gains of 3 and 2.8 per cent respectively. In contrast, Alberta's economy will contract by 2 per cent.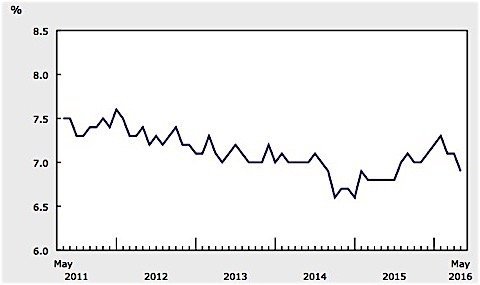 Ontario's Ministry of Economic Development and Growth released its own statement on employment in the province, noting that 21,600 jobs were added in May, the biggest gains being in the construction industry. The manufacturing industry also posted gains of 12,000 jobs in May after two months of declines. Ontario's economy grew by 2.6 per cent last year, the ministry says, more than twice the national average. It is expected that this growth will continue, outpacing GDP growth in the US and in most of Canada.
Ontario is on "much stronger ground" than resource-dependent provinces, according to the Conference Board of Canada, and the province is benefiting from "favourable terms of trade" that make Canadian goods more competitive in international markets. Ontario's exports have been growing due to "stellar" demand in the US for cars and car parts. Auto industry exports from Ontario are forecast to increase by 5.3 per cent in 2016.
Consumer demand is also forecast to boost household consumption by 3.2 per cent in 2016. The downside is that household savings will continue to erode.
Meanwhile, Ontario is placing much emphasis on its investment in public infrastructure, $160 billion over twelve years, which it says is supporting 110,000 jobs every year. Infrastructure spending in Canada received the approval of the Organization for Economic Cooperation and Development (OECD), which called the spending "the right measures" to spur growth, rather than relying entirely on monetary policy. Ottawa plans to spend $50 billion over six years.
The province's $400 million Business Growth Initiative is also helping to grow the economy and create jobs, the government says. Ontario will create more than 300,000 new jobs by the end of 2019, bringing the ten-year total to 900,000.