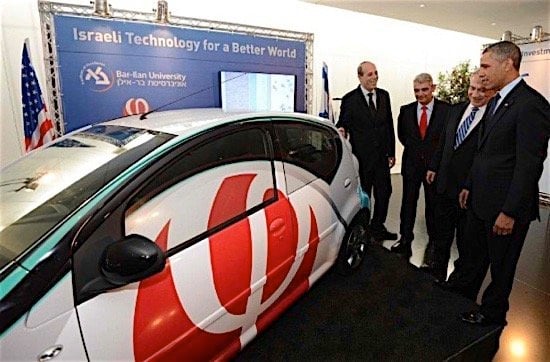 An Israeli company that demonstrated an electric car battery capable of powering a car for 1,800 kilometres on a single charge has been invited to test its latest technologies in Montreal. The mayor of that city is in Israel on a trade mission and took the opportunity to invite Phinergy, which already has a manufacturing presence in Quebec, to be among the first companies to use a planned test corridor for electric vehicles now in development in Montreal. The facility is part of Montreal's Transportation Electrification Strategy.
Phinergy first caught the world's attention in 2014 when it demonstrated its aluminum-air battery. Metal-air batteries have enormous energy potential, according to Phinergy, and have been at the forefront of energy research for years. The key component is the "air electrode," which "breathes" oxygen from the ambient air rather than taking oxygen from a heavy metal, as in a conventional battery. In conventional batteries, the metal cathode, which contains the oxygen reactant, takes up about 70 per cent of the total weight. The Phinergy battery generates electric power from the energy released by the reaction of aluminum with oxygen. Aluminum is the most abundant metal on earth, while Quebec, with its abundant hydroelectric resources, is one of the largest producers of aluminum,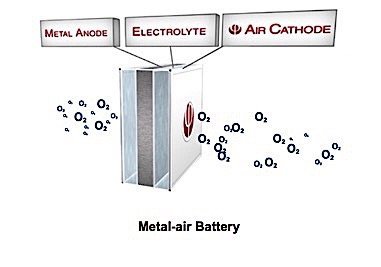 A problem in metal-air batteries until now has been their relatively short lifespan. This was the result of corrosion caused by CO2 being introduced into the air electrode. Phinergy says it has solved this problem by using a silver-based catalyst that allows oxygen in but keeps CO2 out. This gives them high electrochemical performance and complete recyclability, as well as durability. It is also lightweight compared to other electric batteries, weighing just 100 kg. This is just one fifth the weight of a Tesla battery, according to Phinergy.
However, despite the improvements Phinergy has made to the aluminum-air battery's lifespan, it is still not long. The battery is not rechargeable, and must be replaced when all of the aluminum has been used up and turned to aluminum hydroxide.