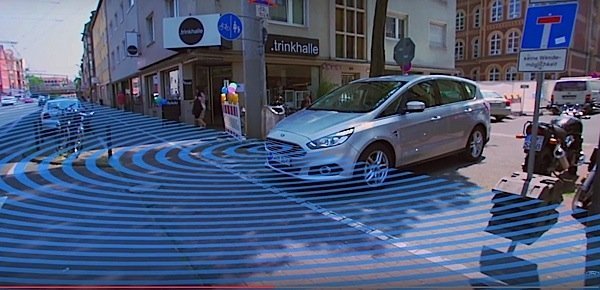 The marketing people are calling it the "car that can see around corners," and the new split-view camera technology unveiled by Ford for the European market can actually let a car do that. The camera is mounted on the front grille of the Ford Galaxy and S-MAX, the first two cars to have the option. It gives the driver a 180° view, seen by the driver on the vehicle's eight-inch touchscreen. The camera must be manually activated, done by pushing a button on the dashboard.
The technology is an attempt to deal with the perennial problem faced by drivers everywhere; the restricted line of sight, or blind spot, at many intersections and other situations, such as entering a road from between two parked cars, a tall hedge or a row of trees. Instead of leaning forward at the wheel and inching his or her way into the road, listening for oncoming traffic, the driver can just activate the camera. It increases his field of vision to 180° in real time, letting him see anything approaching from either side.
According to research from the European Road Safety Observatory SafetyNet, nearly 20 per cent of car accidents at intersections were in part attributable to drivers' obstructed vision. Now that number of accidents could be reduced.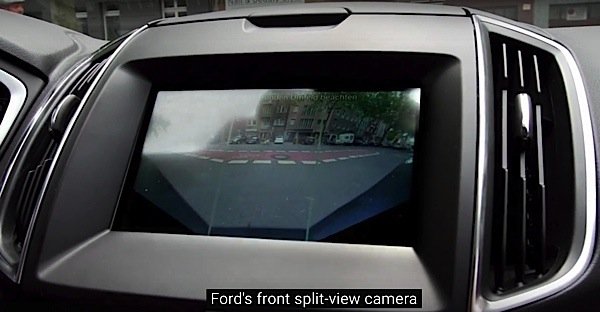 Ford says it has tested the camera "from sunrise to sunset" in all light conditions and in a variety of road conditions, including congested city streets with many cyclists and pedestrians. The camera has 1 megapixel resolution and is 33 millimetres wide. It comes with its own automatic washer system to keep the lens clean. In England the option will sell for about $775 CDN (£400). North American pricing is expected to be announced soon.