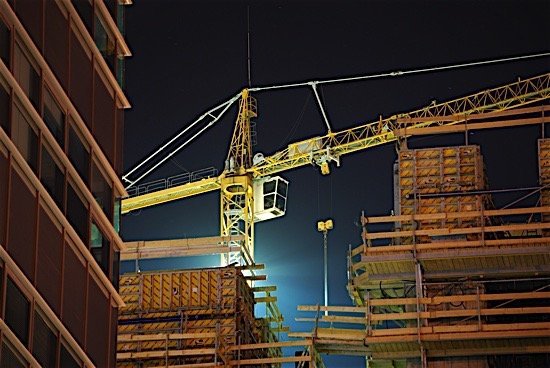 The average wage in Canada is about $25 an hour, but many Canadian workers earn less than that, and the number of workers in that category is growing. In fact, more Canadians earn less than the average wage today than did so twenty years ago, while the share of new jobs being created that pay less than average wages has been on the rise. For Canadians in their prime working years, aged 25–54, more than half (53 per cent) earn less than that average wage. A new report from CIBC Capital Markets economist Benjamin Tal concludes from this that the quality of employment in Canada is on the decline, reflected in the "sluggish" growth of personal income. Most Canadian workers, a total of 6.3 million people, earn between 50 and 100 per cent of the average wage.
The conclusion that Canada's workers are "losing ground" is supported by another study of Canadian employers, this one by recruitment specialists Hays Canada. Their annual survey of the job market in Canada finds that employers are more optimistic as we head into 2017, with a 19 per cent spike in confidence that the economy will improve and businesses generally reporting gains over the past two years. But employers have not necessarily shared the wealth with their employees. Business growth "did not translate into typical signs of advancement such as hiring and pay raises."
These two complementary views of the labour market throw into sharp relief a problem of a different kind, the difficulty facing many employers in finding workers for some of the country's best paid jobs: construction. In a report released in October, the Toronto Region Board of Trade drew attention to the huge and growing need for workers to build all the infrastructure that is planned in the Toronto area. The report, Building Infrastructure, Building Talent, says 147,000 jobs will need to be filled in construction between 2017 and 2031. Of those, 29,000 will be to replace workers soon to retire. According to Routes To. Employment, 40 per cent of construction workers today are between the ages of 45 and 64. Over the next four years, around 9,000 new workers will be needed per year. By 2028 the need will grow to 11,000 workers per year.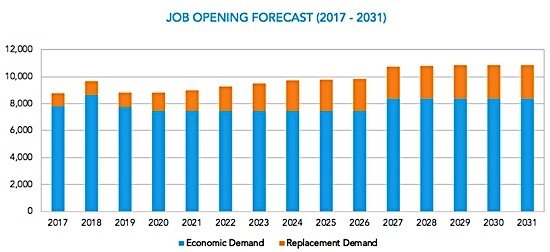 Yet, in spite of the industry's need for many different kinds of skilled workers and tradespeople, employers say construction can be a tough sell to young people. Only 11 per cent of construction workers today are between the ages of 15 and 24. And while there is a wide range of occupations in the construction industry, employers say they are often frustrated by the difficulty of finding suitable workers. There is widespread belief that young people today simply are not interested in construction careers, a belief supported by low completion rates for construction trades training (46 per cent) and apprenticeship programs.
Educators are also concerned about barriers that hinder construction careers, one of which is said to be "low social acceptance." The biggest challenge, according to one industry insider, is getting young people interested in the trades.
Would it make a difference if more young people and potential employees were aware that many construction-related jobs are quite well paid, and that they require high levels of skill and training? According to the Board of Trade report, 70 per cent of the top fifty construction jobs pay more than double the Ontario minimum wage, which is currently $11.40 an hour. Though the range of wages is broad, running from a median of $15 an hour for retail sales to $56.73 for heavy equipment operators, many jobs pay well above average. Statistics Canada's latest average weekly earnings for the construction industry as a whole was $1,201.19 as of September. This put construction in ninth place by earnings of the twenty-two industries ranked.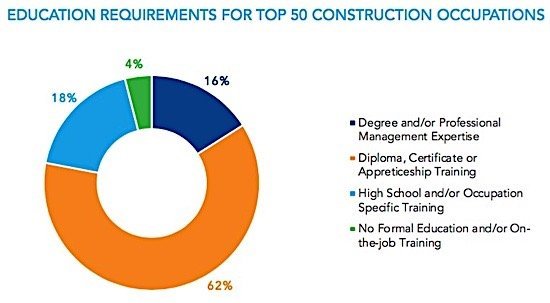 Awareness is in fact a major part of the problem, according to the Board of Trade. Unless potential employees are made aware of the possibilities in construction-related occupations, interest will likely remain low. Employers should therefore do more to communicate with students about job openings and requirements. They need to do more community outreach, offer more co-op and internship programs, participate more in program development and advisory work at local post-secondary educational institutions to provide educators with up-to-date data on priority needs in the industry. One of the report's recommendations is that employers should join Magnet, a technology platform created by Ryerson University and the Ontario Chamber of Commerce that matches talent for employers.
The role of policy makers, especially the government of Ontario, should be to develop a "talent strategy" that supports the infrastructure agenda. A "sustained" advertising campaign promoting the construction industry should be a first step. The government should also work with the Ministry of Education to ensure that secondary students and their parents are getting "robust" information on vocational education and training programs for the construction industry from guidance counsellors and teachers.
Top ten construction-related occupations be median wage per hour
Heavy equipment operator: $56.73
Crane operator: $46.15
Telecommunications installers, repairers: $39.65
Financial auditors, accountants: $34.13
Concrete finishers: $33.39
Bricklayers: $33.00
Electricians: $32.52
Accounting technicians, bookkeepers: $32.10
Civil engineers and construction estimators: $32.00
Floor covering installers: $31.25
Top ten occupations currently in demand in the construction industry:
Construction trades helpers and labourers
Carpenters
Construction managers
Electricians (except industrial and power system)
Home building and renovation managers
Painters and decorators (not interior decorators)
Plumbers
Plasterers, drywall installers and finishers and lathers
Residential and commercial installers and servicers
Contractors and supervisors, other construction trades, installers, repairers and servicers