An industry-led initiative to recruit and train young workers for jobs in aerospace and other industries is beginning to show results. The Ontario Manufacturing Learning Consortium (OMLC) was established earlier this year to address a "critical shortage" of CNC (computer numeric control) machinists. Four industry associations, the Ontario Aerospace Council, the Canadian Tooling & Machining Association, the Organization of Canadian Nuclear Industries and the Canadian Manufacturers and Exporters, are behind the OMLC
Companies in aerospace, tooling and machining, nuclear and manufacturing industries faced a need for nearly 1,000 CNC machinists over the next two years, but were frustrated in their efforts to find qualified workers. OMLC's first initiative was therefore to tackle the skills shortage by reaching out to youth, which the companies would hire and train on an earn-while-you-learn basis. According to a spokesman for Canadian Manufacturers and Exporters (Ontario), the program gives youth an opportunity to learn a trade "focused on innovation and technology" while starting a career in manufacturing. Youth unemployment in Canada is more than twice as high as the general rate of unemployment. The program also supports manufacturers in their needs for skilled workers.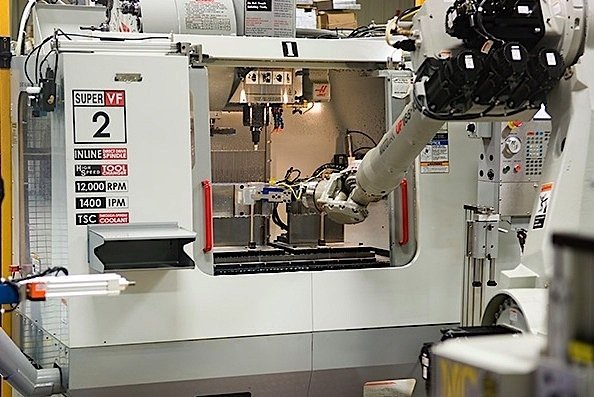 We've created an industry-led initiative that is an outcomes-based approach and offers tremendous benefits to companies. Rather than having to find good candidates on their own, employers can rely on the Ontario Manufacturing Learning Consortium (OMLC) to do the searching and screening for them.

Robert Cattle, Executive Director, Canadian Tooling & Machining Association and Program Co-Director, OMLC
The program co-director of OMLC, who is also the executive director of the Canadian Tooling & Machining Association, said that the first group of sixteen young people aged eighteen to twenty-nine has been hired by twelve companies and are now "well along" in a twenty-six-week program. The trainees begin with three weeks of classroom study, followed by twenty-three weeks of shop floor learning on CNC machines. The companies have been "very enthusiastic" about the trainees and are interested in hiring more youths in future.
The companies are investing approximately $1.7 million in the training, while the Ontario government, through its Youth Skills Connections Program, is providing $1.5 million. OMLC provides cash funding to employers to offset wage costs while the youth are training. Companies who wish to participate must meet certain requirements, including appointing a "lead trainer" to train the youth. It can cost a company up to $20,000 to get a new trainee ready to work.
The OMLC effort to get companies investing in training is contrary to a long-developing trend to cut spending on workplace training. Industry has not done enough, according to OMLC, to work with young people and schools and prepare them for work.