Ontario's food processing industry intends to double its contribution to the province's economy in the next seven years, adding 60,000 more jobs and increasing revenues to $70 billion. The Alliance of Ontario Food Processors (AOFP) released its new five-year action plan with a pledge to strengthen the food and beverage processing industry in Ontario and to raise awareness of "Ontario's best kept secret."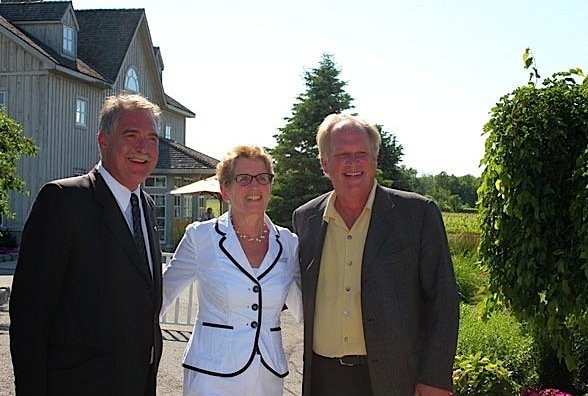 The chair of AOFP, Norm Beal, who is also the president and CEO of Peninsula Ridge Estates Winery, said that unlike other manufacturing sectors, which have been declining, the food and beverage industry is poised for growth and is "making a commitment" to add the jobs and increase revenues.
The sector, which consists of more than 3,000 small, medium and large businesses, now employs 125,000 people and generates $39 billion in annual revenue, he said. An economic impact analysis of the food and beverage processing industry carried out in 2012 showed that it was the second largest manufacturing sector in Ontario, in terms of value of shipments and total revenues. Only auto manufacturing is bigger, in terms of expenses, imports and exports. However, while "comparator" manufacturing sectors saw revenues decrease between 2005 and 2010, the food and beverage sector and the agricultural sector proved to be more "recession resistant," and experienced growth of "about 2 per cent" per year, even with the economic downturn of those years.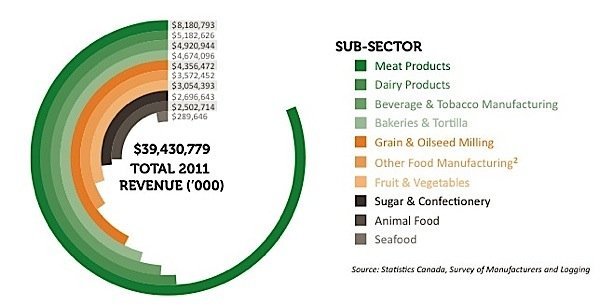 With the province's population projected to experience "healthy" growth over the next 26 years, rising more than one-third (34 per cent) to about 18 million by 2036, the food and beverage sector will "likely" continue to grow as well.
Strong demand exists within the US, Mexico, Asia and Europe for food and beverage products processed in Ontario. In 2012, Ontario's food and beverage manufacturing sector exports were about $7.7 billion, accounting for more than 30% of Canada's total food and beverage manufacturing exports.

Ontario's Food and Beverage Processing Industry Strategy
Now, the industry has followed up that economic impact analysis with a new report, Ontario's Food and Beverage Processing Industry Strategy: The New Engine of Ontario's Economy. This report identifies four major recommendations necessary to supporting a dynamic and innovative business climate:
Establish a Food and Beverage Innovation Centre to connect capacity and infrastructure already available in the province and add new infrastructure where needed to provide processor businesses with market development and business resources.
Raise the Profile of Ontario Food and Drink: strengthen Ontario's "brand" to further expand domestic markets and better leverage opportunities in emerging and developed export markets.
Develop Talent and a Future in Food: raise awareness of the processing sector as an attractive job destination and support the places and people necessary to develop talent.
Simplify and Modernize Regulations: better align industry and government for regulation development and reform.
The next step will be the creation of implementation teams for each of the four recommendations, with submission of these recommendations to the Premier of Ontario targeted for February 2014.
The full report can be found here.