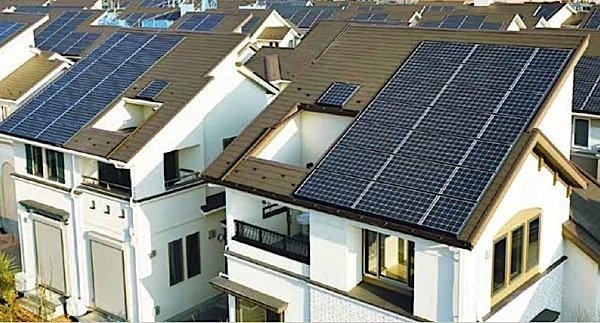 Panasonic's Residential Solar PV + Energy Storage Solution will be offered as an upgrade for purchasers of homes in a new community being built by LIV Communities. The Panasonic energy management system, which includes solar panels and a wall-mounted battery, will be available in the Grand Collection of LIV's Casablanca community in Brampton, Ontario. It is the first community in Canada to feature the system. Panasonic's Eco Solutions managing director for Canada said the installation marked the "next phase in residential solar energy" and an industry-leading step forward in sustainable housing. A pilot installation of the system was completed last year in a single home in Vaughan.
The system consists of a compact 10 kWh lithium-ion battery module and hybrid inverter. The inverter allows electricity to be stored or discharged, and converted from AC to DC or vice versa on demand. It also includes an energy-monitoring system that lets homeowners monitor their electricity usage. The battery can be used a backup source during power outages. It can replace approximately 70 per cent of the average home's electricity needs, depending on the location and amount of sunlight. The battery has a storage capacity of 8 kWh and output of 2 kWh.
The home battery storage market has been dominated by Tesla, which introduced its own Powerwall product in 2015. However, the company has now discontinued the larger, 10 kWh residential battery, which was being sold to installers for $3,500. The cost was considered uneconomical when consumers could buy a backup generator for emergency use for less. Tesla's smaller, 7.5 kWh battery remains for sale. In 2015, Panasonic and Tesla signed a cooperation agreement to work together on Tesla's upcoming Gigafactory in the US, where  batteries for stationary storage and for Tesla's electric vehicles will be manufactured.
GreenTechMedia.com (GTM) reports that systems like the Tesla Powerwall that provide backup power only are not as likely to find favour with consumers as are systems that offer self-consumption as well. The GTM research found that solar-plus-storage systems that could take advantage of state feed-in tariff arrangements were only slightly more economical than solar-only systems. GTM believes that at this point the appeal of such systems will be for early adopters.
The Panasonic system being offered in the Brampton homes will operate on a net-metering basis, meaning that customers who generate their own electricity can feed the excess power back into the grid. The home builder is promoting the Panasonic system as a way to reduce utility bills and to better manage energy use.