After almost two years of continuous expansion, manufacturing production levels dropped in February. The decline, though not dramatic, reflects a falling confidence, the result of the ongoing "oil price shock" here and around the world.
The measure of manufacturing used in Canada is the RBC Canadian Manufacturing Purchasing Managers' Index (PMI). It dropped from 51 in January to 48.7 in February, signaling "moderate deterioration" in overall business conditions throughout the manufacturing sector. A PMI of 50 is taken as "neutral."
The index indicates that volumes of new work received by manufacturers in Canada decreased. New export sales also decreased, with a rate of decline that was the most marked in three years. According to RBC, manufacturers reported "sharp falls" in energy infrastructure spending, which weighed on new business volumes from outside the country. Employment in the manufacturing sector also declined in February.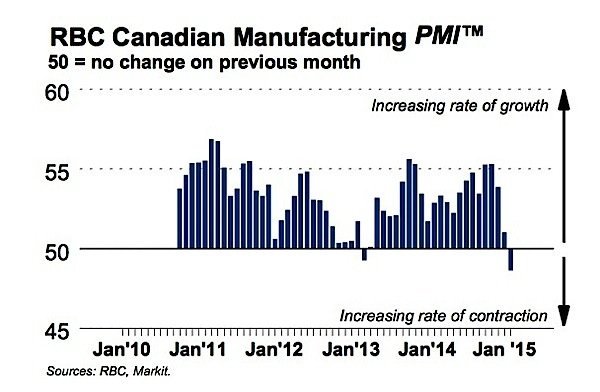 Meanwhile, the falling Canadian dollar has not so far translated into more exports, as many have predicted. Rather, it has had a negative effect on manufacturers who must pay more for parts and materials from outside Canada. The rate of inflation for "input buying" rose to a five-month peak, RBC reports. However some analysts have said that it is still too soon for the devalued loonie to have had an impact on exports.
"February's data reflects the hit to confidence from the oil price shock with the weakness most evident in the energy intensive regions of the country," said Craig Wright, senior vice-president and chief economist, RBC. "Over time we expect the weaker Canadian dollar and stronger U.S. economy to turn sentiment higher."
The February reading for Canada is the lowest since the index first appeared four years ago. The comparable index in the US, the Institute for Supply Management's purchasing managers' index, also fell slightly in February, dropping from 53.5 in January to 52.9. This was the US index's lowest reading in a year, but any reading above 50 indicates growth.
The monthly RBC PMI is based on a survey of manufacturers conducted by Markit, a financial information services company, and the Supply Chain Management Association (SCMA). The senior economist at Markit, Tim Moore, was quoted in the Globe and Mail saying that the slump in February was "not a sharp decline."