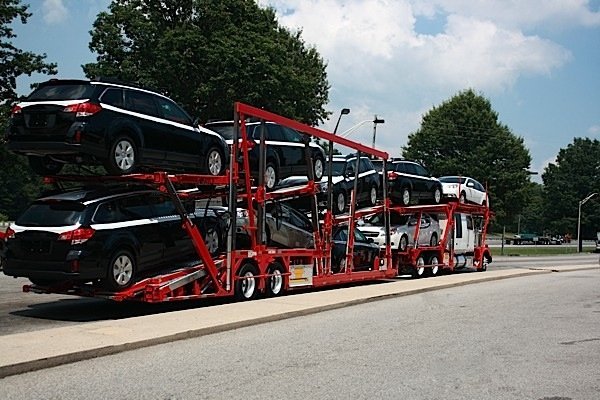 Poorer than expected retail and wholesale sales in March have sent the Canadian dollar to its lowest level in six weeks. Retail sales were down 1 per cent in March, Statistics Canada reports, falling to $43.8 billion. Sales were down in six of eleven subsectors, representing 74 per cent of total retail trade, the agency said, and in nine provinces. The largest decrease in dollars (0.8 per cent) was in Ontario.
The largest decrease in dollar terms was seen by car and car parts dealers. Sales at new car dealerships were off 3 per cent, at used car dealerships by 3.7 per cent, and at "other" motor vehicle dealers by 5.3 per cent. Sales at auto parts and accessories stores, however, were up by 2.5 per cent, the fifth time in six months they have increased.
Other decreases included sales of furniture and home furnishings, gasoline, food and beverages, building material and garden equipment.
Sales of clothing and accessories, shoes, sporting goods, books and music, electronics and appliances were all up.
The 1 per cent drop in wholesale sales in March was the second in two months. Sales declined to $54.6 billion, with lower sales in five of seven subsectors. As in the retail trade, the biggest drop was in motor vehicle and parts. That subsector recorded a decline of 2.5 per cent, falling to $10.3 billion. Statistics Canada says this was its lowest level in four months. Most of the decline was in motor vehicle sales, which fell 3.3 per cent.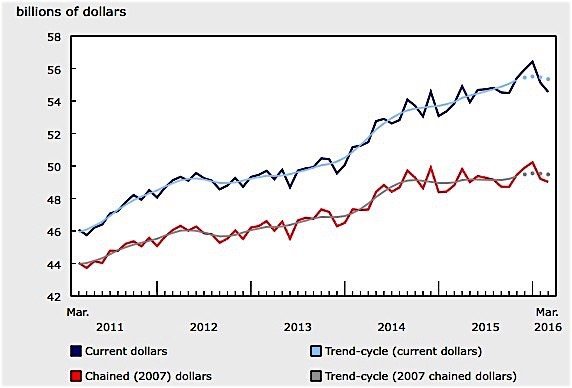 In the miscellaneous subsector, which includes agricultural supplies, sales declined 3.2 per cent to $6.7 billion, a fourth consecutive decline.
The food, beverage and tobacco subsector decreased 1.3 per cent to $10.5 billion, while the farm product subsector decreased 0.9 per cent to $644 million. The decline in March brought sales in this subsector, which had reached their highest level on record in March 2015, to their lowest level since February 2014. Lower prices for live animals contributed to the decline in sales in March.
The machinery, equipment and supplies subsector saw 0.5 per cent growth in sales, to $11 billion, as did computer and communications equipment, and farm, lawn and garden machinery and equipment.
Wholesale sales were down in six provinces, the greatest decline in dollar terms occurring in Ontario. Ontario sales dropped 1.4 per cent to $28.1 billion. Quebec sales rose 1.3 per cent to $10.1 billion in March, led by gains in personal and household goods, building materials and supplies, and machinery and equipment.