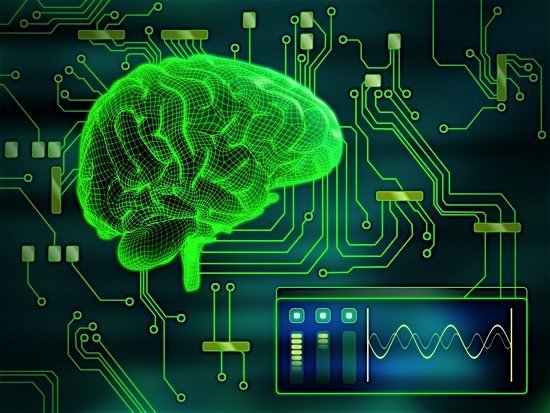 Many people must have wondered yesterday as they spent hours waiting in airports around the world for their Delta Airlines flights how this could have happened. How could a modern, global corporation be brought to its knees by something as routine and banal as a power outage? How could said global corporation not have a backup, a sophisticated disaster recovery plan that would kick in immediately and take over all mission critical operations, like keeping the airplanes flying?
A writer on Cloud Computing expressed what many must have been thinking when he wrote that Delta's problems are "about as bad as it gets for a company." The airline lost revenue, lost credibility, and appeared clueless to the world. "What's surprising here is that a company as large as Delta does not have geo-redundant replication of its datacentres to avoid power outages and other natural disasters so that today's scenario could be circumvented," wrote the expert. In other words, Delta should have off-site backup.
Perhaps it isn't that surprising. According to TechRepublic, citing a Symantec study, more than half of small and medium businesses (57 per cent) have no disaster recovery plan in place. This leaves them open to what happened to Delta yesterday, and to Southwest Airlines last month, a sudden catastrophic interruption of business. A disaster recovery expert at Gartner research said that in today's world, the business expectation is that you're up and running quickly after a disaster. A recovery time of four hours or less is considered reasonable, he said.
Disaster recovery is not a new or advanced concept, but the very technology that makes it both essential and more readily achievable is advancing rapidly. Even those who understand technology and work with it find it daunting, according to a new survey of CEOs from PwC Global. The report notes that while more and more C-suite executives are "genuinely tech-savvy," they still struggle to keep up with the technologies that are transforming their industries. Most executives (77 per cent) accept "technology" in some form will have profound impacts on their businesses over the next five years. Determining which technology is most important for that particular business is another matter.
It is not easy to stay ahead of emerging technologies. But you really don't have a choice; your organization must adapt. By winnowing down the welter of possible technologies to a starting list of the Essential Eight, we hope we have
Based on the pervasiveness of disruptive technology in our world, and on questions that company executives in a whole range of industries are asking themselves, PwC says it has identified the "essential eight" technologies that matter right now.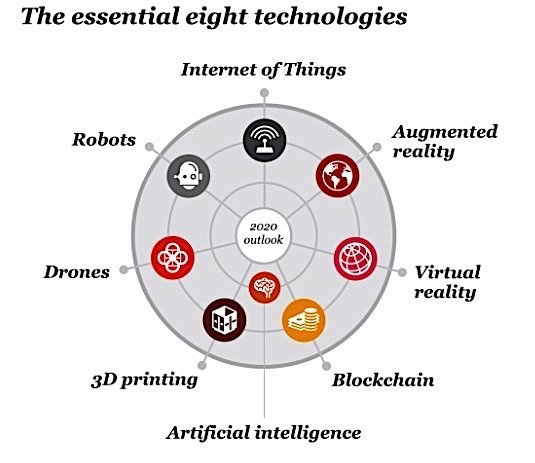 Eight Essential Technologies
Artificial intelligence (AI), defined as software algorithms capable of performing tasks such as visual perception, speech recognition, decision-making, and language translation.
Augmented reality (AR) refers to the addition of information or visuals to the physical world, via a graphics and/or audio overlay, to improve the user experience for a task or a product.
Blockchain is a distributed electronic ledger that uses software algorithms to record and confirm transactions between many parties. Information once entered cannot be altered, as the downstream chain reinforces upstream transactions.
Drones, whether air or water-based (Unmanned Aerial Vehicles (UAV), fly or move without an on-board human pilot. Drones can operate autonomously (via on-board computers) on a predefined flight plan or be controlled remotely.
Internet of Things (IoT) is the network of objects that have been embedded with sensors, software, network connectivity, and compute capability, and can collect and exchange data over the Internet. IoT enables devices to be connected and remotely monitored or controlled. The term IoT has come to represent any device that is now "connected" and accessible via a network connection.
Robots are electro-mechanical machines or virtual agents that automate, augment or assist human activities, autonomously or according to set instructions, often a computer program.
Virtual reality (VR) refers to a computer-generated simulation of a three-dimensional image or a complete environment, within a defined and contained space that viewers can interact with in realistic ways. VR is intended to be an immersive experience and typically requires equipment, most commonly a helmet/headset.
3D printing, also known as additive manufacturing, is used to create three-dimensional objects based on digital models by layering or "printing" successive layers of materials. 3D printing relies on innovative "inks" including plastic, metal, and more recently, glass and wood.
PwC says that these eight essential technologies are already impacting your business model and will "shake things up" across all key aspects, including strategy, customer engagement, operations, people and talent, and compliance. What's more, "you really don't have a choice" in the matter; your organization must adapt or else, warns PwC.