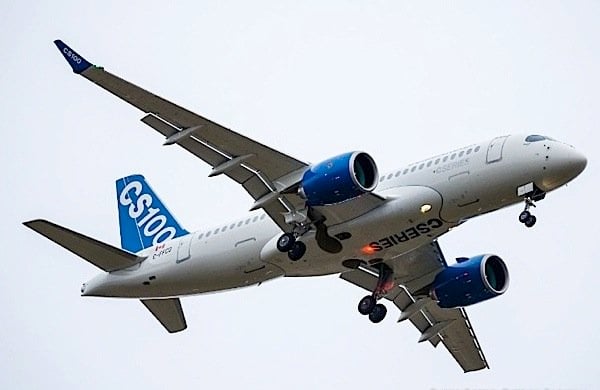 Transport Canada has certified Bombardier's CS100 commercial aircraft, the smaller of two planes in the aircraft maker's C Series program. The single-aisle CS100 seats 110–125 passengers. The larger CS300 is expected to be certified in the next few months. The C Series planes are the largest ever built by Bombardier, and the first new jets in their class to come to market in more than thirty years.
The premier of Quebec, Philippe Couillard, whose government recently acquired a direct financial stake in Bombardier, said that the certification was something for Canadians and Quebecers to be proud of, and "a significant part of our economic future."
Canada's Transport Minister, Marc Garneau, made the announcement at a news conference in Mirabel, calling it "a big day" and a strong message to investors and potential customers that the C Series is open for business.
In its own announcement of the certification, Bombardier noted that the "comprehensive and rigorous" testing program undergone by the CS100 included more than 3,000 flight test hours, the validation of thousands of test results, and the authentication of a range of design and performance data. In congratulating the teams who worked on it, the president of Bombardier Commercial Aircraft, Fred Cromer, said that bringing to market the world's first new aircraft for the 100–150-seat market in more than thirty years was a "standout achievement."
The company says that noise performance testing confirms that the CS100 is the quietest commercial jet in its class. Quiet performance and short-field capability are given as benefits for customers in various types of operations. Bombardier has also confirmed that the jet's range is 6,112 kilometres (3,300 NM), about 650 kilometres (350 NM) more than originally targeted. Powered by the "groundbreaking" Pratt & Whitney PurePower® PW1500G engine, the jet delivers more than 20 per cent fuel burn advantage compared to in-production aircraft and emits 50 per cent fewer NOx emissions than recommended by the Committee on Aviation Environmental Protection.