The ultimate in haptic feedback — including force feedback, biometry, and motion capture — in the form of "wearable" bodysuits and gloves, may have critical applications in various industries. When combined with faster 5G networks, without latency, they could even have applications in remote robotic rescue, remote surgery, and hazardous field operations. Although "real" feedback in virtual reality seems like the stuff of science fiction, Teslasuit showcased its breakthroughs at CES2020 in Las Vegas.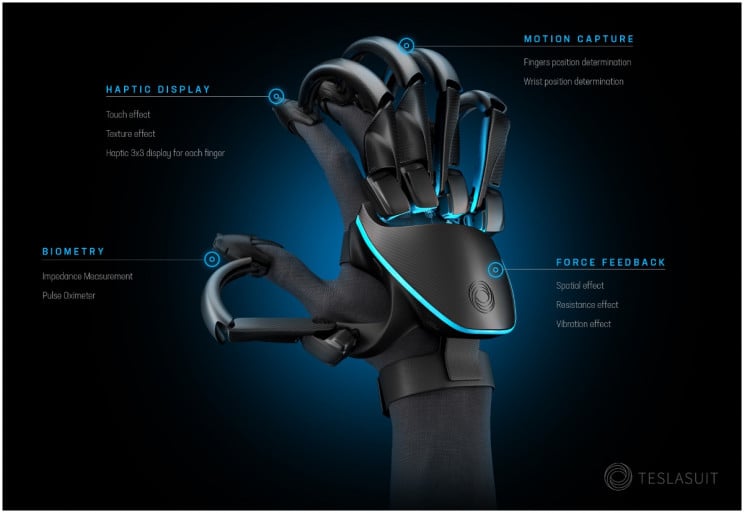 The sophisticated haptics gives a "tactile sense" — a way to feel virtual surfaces and textures. The Glove device detects the movements of the wearer's hands and uses these to control accurate actions. When combined with other technologies, such as "robotic control" systems, it has potential applications for any remote robotic application, including surgery, medicine, search and rescue, drone piloting, and countless other potential use-cases requiring "touch" feedback.
Currently, the breakthrough technology, Teslasuit's VR Body Suite and VR-powered Glove are too expensive for entertainment and gaming. The breakthrough technology does hold out significant promise — especially for remote and robotic control — in industry. Imagine wearing a VR glove and glasses that give "feel feedback" in real-time. The ultimate applications may include surgery, hazardous manufacturing, and even rescue operations — where cameras and robotic controls do not give sufficient feedback for safety.
Haptic technology, VR and 5G
The combination of "haptic" technology with virtual reality scenarios in industry, powered in real-time by 5G, could have broad applications beyond high-end VR gaming. For some industrial applications using remote or automated controls, visual feedback alone may be insufficient. To efficiently emulate "touch," the VR-powered Glove uses:
Force feedback
Motion capture
Haptic display
Biometry
All of this technology comes at a price perhaps too high for gamers, but quite reasonable for many industrial applications, at around $5,000.