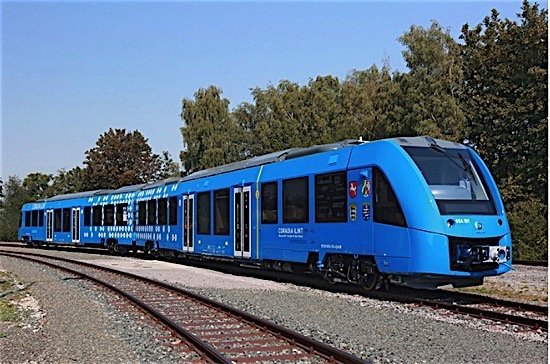 Canadian hydrogen generation and fuel cell products developer Hydrogenics Corporation will formally undertake feasibility study for GO Transit to potentially deploy hydrogen-powered trains for Ontario. These trains have aleady proven successful in Europe, using technology developed in Canada at Hydrogenics.
The Ontario Government announced the consultation yesterday, as part of its $13.5 billion RER expansion that will see GO transit on the busy GTHA regional rail newtork— planned for 2025. Environmental assessment is a big part of that project approval, with electrification and Hydrogen-power both presented as solutions. Hydrogen power, which essentially converts Hydrogen to electric power, would be a less expensive solution, when compared to electrifying current routes.
Hydrogenics Corporation participation
Previously, in May 2015, Canadian hydrogen generation and fuel cell products developer Hydrogenics Corporation was selected  to provide at least 200 hydrogen fuel cell systems to French train maker Alstom over a ten-year period. The agreement between Hydrogenics and Alstom, worth approximately €50 million, was to develop and commercialize hydrogen-powered commuter trains for Regional Commuter Trains in Europe. The fuel cell system had to meet European train compliance regulations. At the time of the agreement, Hydrogenics CTO and co-founder Joseph Cargnelli commented that the company's experience supplying large, reliable propulsion systems for "challenging" applications was an important consideration in Alstom's decision.
Only two years ago, Alstom rolled out the first result of that collaboration, the zero-emission Coradia iLint commuter train, billed as the world's first hydrogen-powered train and an environmentally friendly alternative to diesel-powered passenger trains in systems that have not yet electrified. The Coradia iLint can carry 300 passengers and travel at up to 140 kilometres per hour, with a range of 800 kilometres on a single tank of hydrogen. The Coradia iLint is a retrofit of an existing diesel model. Alstom is selling the Coradia iLint as a complete package, including the train itself, maintenance, and the hydrogen infrastructure. That infrastructure includes lithium-ion batteries that store energy that is not immediately used by the train, and an energy management system that disperses the energy efficiently throughout the vehicle.
Hydrogenics is also currently part of a German consortium working to develop fuel-cell technology for zero-emission passenger flight. The consortium, known as H2FLY, includes the DLR Institute of Technical Thermodynamics, the University of Ulm, aircraft manufacturer Pipistrel, and the airport of Stuttgart. Its vision is the advancement of emission-free electrified flight using hydrogen, and its aircraft, named HY4, is currently undergoing testing.