The Cement Association of Canada (CAC) has attacked the provincial government for its intentions to modify the Ontario building code and allow wood construction in taller buildings. The government has been studying the issue and released a paper back in March outlining potential building code amendments to allow for wood construction in buildings up to six storeys. The present limit is four storeys. But the CAC is taking the position that "taller wood buildings are not the answer to affordable housing." Further, they are downright dangerous.
Wood is a combustible material, the CAC notes in a release today, and allowing its use in taller buildings will put Canadians' safety at risk. The cement group singles out one particular building code amendment pertaining to fire fighters' access to buildings. The proposed amendment, the CAC says, would restrict access, preventing fire fighters from getting close to burning buildings, so that "occupants could be stranded in a combustible building with no avenue for fire services to reach them."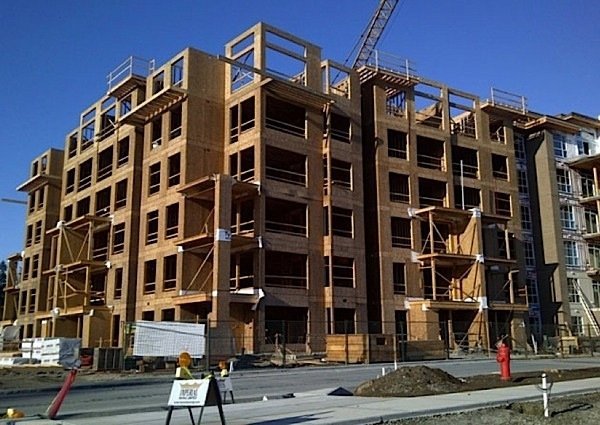 Others do not see it this way. The Building Industry and Land Development Association (BILD) is solidly behind the proposed wood amendment. BILD sees increased use of wood in six-storey construction as a boon for the home building industry. BILD published its own report on the subject in 2013, calling it a "substantial opportunity that should not be ignored." The BILD report says that in Toronto alone, nearly 124,000 new residential units could be built in accordance with the city's official plan. That plan calls for mixed-use residential construction along many of the city's main arteries, referred to as "the avenues."
A main benefit of building with wood is reduced cost. BILD calculates that the cost savings could be as high as 20 per cent per square foot, compared to building with concrete. On a residential unit of 1,000 square feet, the savings in construction costs could reach $25,000. In addition, development charges should be reduced, since much of the new construction would be in mature areas where infrastructure is already in place. Some of these cost savings could be passed on to home buyers.
The CAC rejects this argument outright, calling it a "misconception" that building with wood will save money. Conceding that construction costs could be cheaper with wood, the cement group insists that in the longer term, maintenance costs, as well as necessary safety upgrades would actually make buildings cost more.
"While the cost of building a taller wood-frame structure may be initially lower, maintenance costs and the necessary fire protection systems make it more costly over the longer term for both the occupants and the municipalities."