The year 2013 will see record-high global car sales after a 4 per cent increase in the first half, according to a Scotiabank Global Auto Report. The gains are the result of a combination of positive factors, including "reduced headwinds" from Western Europe and renewed global focus on job creation, supported by low interest rates across the world. Improving financial market conditions are also a factor, the report says, as is consumer confidence.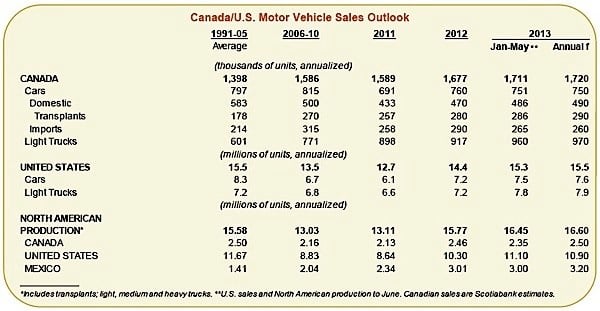 Carlos Gomes, Scotiabank's Senior Economist and Auto Industry Specialist said, "We expect continued gains in the second half of the year supported by low short- and long-term interest rates around the world, strengthening global job creation and improving financial market conditions which have propelled several equity market indices to record highs."
The greatest gains in auto sales were in China, where purchases of cars and crossover utility vehicles (CUVs) grew by 20 per cent in the first half of the year. Scotiabank attributes the sharp rise in Chinese sales to employment and income growth. Employment is rising at 5 per cent year-over-year, the report says, and car sales for all of 2013 are expected to show 15 per cent growth over last year. The potential for sales growth is enormous, as there are more than 450 million Chinese born since 1980. This demographic accounts for 85 per cent of all car sales in China, but less than one-quarter of them have bought their first car to date.
In Canada, passenger vehicle sales are on target to reach a record high in 2013 of 1.72 million units, surpassing the 2002 peak of 1.70 million. And in the United States and Mexico, volumes jumped to the highest level since 2007. Leading indicators, particularly consumer confidence in the US, which was recently at a six-year high, point to further gains. A near-record number of Americans plan to replace their aging vehicles in the near-term. Furthermore, American households are in a better position now to purchase new vehicles, at a time when affordability is the best it has been in decades. In Mexico, volumes are being buoyed by economic growth of roughly 3 per cent, a much stronger pace than its NAFTA partners.
In Western Europe, the third largest auto market behind China and the United States, second-quarter car sales totalled 12 million units, up 3 per cent from the previous quarter. Further gains are expected, Scotiaband says, as leading indicators, including business and consumer confidence have recently turned more positive.
Brazil is the only major auto market to show a loss of momentum, after car sales climbed to record highs through May. High inflation, approaching 7 per cent compared to last year, and rising interest rates, have been factors in dampening the outlook for Brazil. The country's currency has also undergone a steep depreciation of 40 per cent against the US dollar, impairing efforts to curb inflation. The Brazilian currency (real) is now the weakest among the G20 countries.