The liquefied natural gas industry is still in its infancy in Canada, but in the latest development in that industry, two companies, one Chinese the other Canadian, have reached a deal to build and operate two liquefaction plants in Canada, one in British Columbia, the other in Alberta. The LNG will be used as fuel in the trucking industry, as well as in marine, rail, mining and oil and gas exploration.
Ferus Natural Gas Fuels of Calgary and ENN Canada, a subsidiary of the Chinese company ENN Group, will build the facilities, which will each produce 370,000 litres (100,000 gallons) of LNG per day, beginning in 2016. The joint venture addresses what Ferus CEO Dick Brown called a major challenge in the development of the LNG market in this country, lack of infrastructure.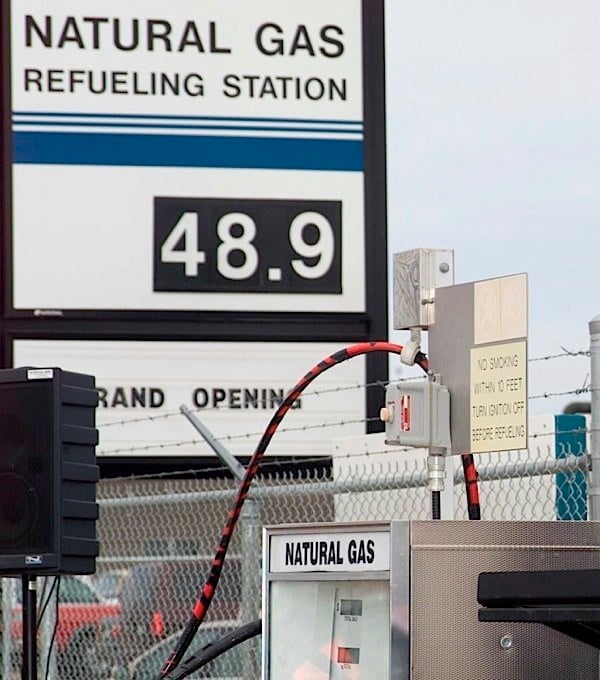 "In order for our customers to make the switch to natural gas, they need certainty of an uninterrupted supply of LNG to fuel their equipment," said Brown. "These two LNG liquefaction plants, along with the specialized distribution equipment and planned retail fueling stations, will ensure that supply, which in turn will promote and facilitate the widespread usage of LNG in Western Canada."
The chief benefits of using LNG as a vehicle fuel are cost savings and reduced greenhouse gas emissions. According to the CEO of ENN Canada, Henry Caj, the cost savings to the end user of LNG are "30 to 40 per cent," while it contributes "up to" a 25 per cent reduction in greenhouse gas.
The company has plans, it is reported, to build chains of LNG fueling stations across North America.
China's CNOOC, meanwhile, which last year acquired Nexen Inc. of Calgary, has secured the rights to a parcel of land in British Columbia where it plans to build an export terminal for LNG. The Chinese company has teamed with Japan's Inpex Corp. and JGC Corp. to build the facility, which CNOOC says is the best way it can maximize the value of its Canadian shale business. The company owns 300,000 acres of shale gas deposits in BC.
Other international oil companies, including Petronas of Malaysia, are also interested in building LNG facilities in BC. According to one report, there are no less than fourteen groups vying for space on BC's coast. Others include Shell, Chevron, Exxon and Sinopec.
The first commercial fuelling station with LNG opened in Quebec in 2011 as part of a pilot project to create an LNG-fuelled corridor between Quebec City and Toronto.