Pembina Pipeline Corporation of Calgary will proceed with construction of approximately $2 billion in pipeline expansions following the conclusion of  binding commercial agreements for transporting oil and gas with thirty customers in its operating areas. The Phase III Expansion is expected to be in service between late 2016 and mid 2017, subject to environmental and regulatory approvals. The 540-kilometre expansion will follow and expand upon certain segments of the company's existing pipeline systems from Taylor, British Columbia southeast to Edmonton, Alberta. Areas where debottlenecking is essential will be given priority.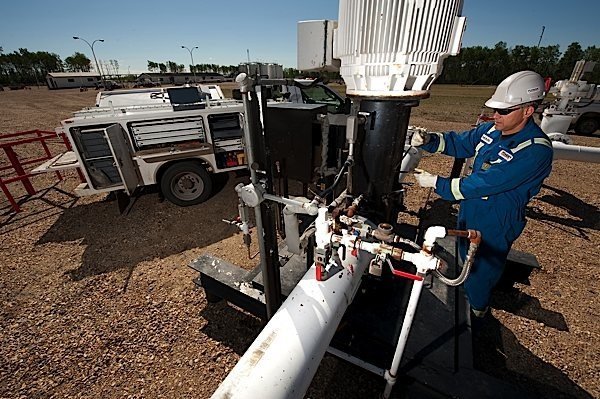 The core of the expansion will be a new 270-km, 24-inch diameter pipeline from Fox Creek, Alberta, to the Edmonton area. It is expected to have an initial capacity of 320,000 barrels per day (bpd) and an ultimate capacity of over 500,000 bpd with the addition of midpoint pump stations. When complete, the three pipelines in the Fox Creek to Edmonton, Alberta corridor will have the designed capacity to transport up to 885,000 bpd if fully expanded.
The Phase III Expansion will also increase pipeline interconnectivity among existing Pembina sites and third-party delivery points. This interconnectivity will provide the option for customers to access a broad variety of delivery points including fractionators, refineries, and storage hubs and increased access to pipeline and rail take-away capacity.
The contracts underpinning the Phase III Expansion are ten-year transportation services agreements for volumes that average over 230,000 bpd, or approximately 75 percent of the initial capacity. Earnings are expected to be in the $270–$300 million range per year, with the potential for additional transportation commitments over the next six to nine months.
The Phase III Expansion is the largest in the company's history, according to Pembina president and COO Mick Dilger. It follows a previously announced "open season" during which the company identified producers' pipeline capacity requirements.
"The project provides customers an inclusive solution, as it will increase crude oil, condensate and NGL take-away capacity from northwestern Alberta and northeastern British Columbia to markets in the Edmonton and Fort Saskatchewan areas. When complete, it will also create operational efficiencies and improved customer service by reducing the need for us to batch products throughout our systems."
The Phase III Expansion follows a series of growth projects on Pembina's conventional pipeline infrastructure resulting from the ongoing successful development by oil and gas producers of resources plays in the Montney, Duvernay and Deep Basin Cretaceous formations.
The Phase III Expansion will increase Pembina's previously announced 2014 capital spending plan from $1.5 billion to $1.7 billion, the majority of spending associated with this project expected to occur during the main construction periods from 2015 through 2016.