Led by record-high food sales, Canada's manufacturing sector experienced sales growth of 0.9 per cent in August, with sales up in fifteen of the twenty-one industries tracked. Total sales for the month reached $51.1 billion in August. The largest sales increases were in dairy, bread and bakery, fruit and vegetables, and specialty food industries, Statistics Canada reports. Food industry sales rose 1.7 per cent, to $8.6 billion, a new record. It was the fifth increase in manufacturing sales in the last five months, reaching an annualized third-quarter rate that was 2.8 per cent higher than in the second quarter.
Primary metal industry sales also showed strong improvement, rising 3.6 per cent to $3.9 billion, while sales in the petroleum and coal products industry were up 2.5 per cent to $4.4 billion. In both cases, it was the second consecutive monthly gain.
The increased sales were seen across eight provinces, the largest increase in dollar terms being in Ontario. Higher sales of machinery, food, beverage and tobacco products and chemicals contributed to Ontario's 0.8 per cent sales growth. In Alberta, sales were up 2.2 per cent, with advances in the chemical and food industries. It remains to be seen whether the pull-back in investment in Alberta's oil production has reached bottom, and whether oil production will continue to increase.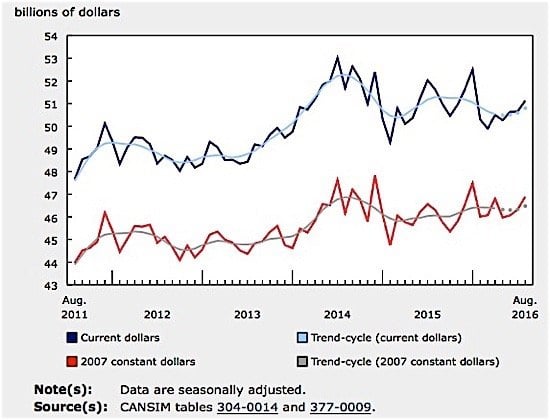 According to TD economist Dina Ignjtovic, the "uptrend" in Canadian manufacturing sales is expected to continue as US consumption is "likely" to translate into greater demand for Canadian goods. The Bank of Canada, meanwhile, is calling for economic growth to strengthen further over the second half of 2016.
The announcement of improved manufacturing sales comes on the same day that Canada's Minister of Innovation, Science and Economic Development, Navdeep Bains, called the manufacturing sector "a vital part of our economy," one that must be "reinvented" to sustain and grow. Bains was speaking at Industrie 2030, a manufacturing "summit" organized by the Canadian Manufacturers & Exporters (CME) and its partners.
The senior vice president of CME went even further, saying that manufacturing is the "single most important" economic sector in Canada. Mathew Wilson went on to say that "with a comprehensive plan" in place to leverage Canada's strengths, "we can compete and win on the global stage on investment, productivity, product innovation and commercialization."
That comprehensive plan must include
Building a strong labour pool and skilled workforce
Accelerating adoption of advanced manufacturing technologies
Fostering innovation, commercialization and new product development
Creating a competitive business environment in Canada
Increasing access to domestic and foreign markets.