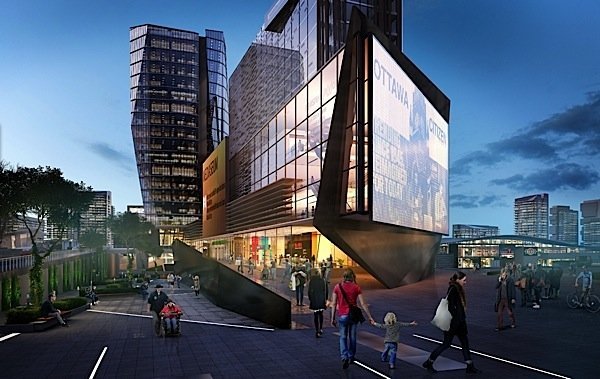 A group consisting of land developers, investors, realtors and theatrical producers has created a plan for a major re-development of a parcel of land in Ottawa. The area, called LeBreton Flats, consists of fifty-five acres in the centre of Ottawa, near Parliament Hill.
The plan, called LeBreton Re-Imagined, is a response to a National Capital Commission request for proposals for the development of the area, issued in 2014. The proposal would create a mixed-use venue consisting of large green spaces, public pathways, museums, numerous recreational pavilions, an aquarium, a planetarium, as well as commercial, residential and retail buildings.
The project, being called a true city-building initiative that will result in a national gathering place, would include a "modern urban village" with housing for seniors and students, as well as condominiums and rental apartments. It would also include a YMCA and a school.
A proposed multimedia museum, called the Canadian Communication Centre (CCC), will present the history of print and broadcast journalism in this country, and will include a space for journalists and broadcasters working in Ottawa.
An automotive centre will house "significant" antique and contemporary car collections and showcase Canada's automotive history and innovations.
A science and innovation pavilion/planetarium will provide a home and exhibit space for artifacts relating to Canada's scientific and technological history. The proposal also includes a pavilion for showcasing the marine environment of Canada, including a Ripley's Aquarium.
A new sports venue to house Ottawa's NHL franchise, with seating for 18,500, is also proposed.
Construction on the project would take place over three phases, with certain components ready by the summer of 2017. The successful proponent is not expected to be announced by the NCC, however, until early in 2017.
Devcore Group of Ottawa and Canderel of Montreal are the property development companies involved in the proposal. A third entity called DLS Group consists of the deputy chairman of Power Corporation of Canada, André Desmarais; the founder of Cirque du Soleil, Guy Laliberté; the head of Pandion Investments, William J Sinclair; and the Mierens family, owners of Ogilvie Realty in Ottawa.
Calling it a "once in a generation opportunity," Mr. Desmarais said the project would redefine our nation's capital.