In a tight vote, TransCanada's Keystone XL pipeline was approved 3 to 2 by Nebraska's Public Service Commission — despite the recent 5,000 barrel oil spill in South Dakota.
The 1,897 kilometer pipeline will carry 830,000 barrels of oil a day from Alberta to Nebraska. The last point of contention was permission to pass through Sandhills in Nebraska, an ecologically important area of sand dunes. It would also cross the lnd of many ranchers and farmers — many of whom are against it.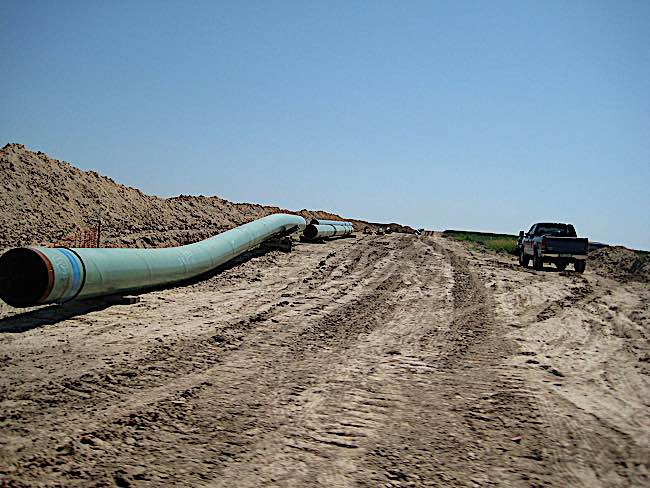 In its review, Nebraska's Public Service Commission did not evaluate the safety and limited its analysis strictly to regulatory compliance and economic/social impacts. The commission looked at other route options. They recommended specifically an alternate route, 30 kilometres east of the originally intended route. This may present a new delay, as the new route may require a further round of approvals.
The purpose of the pipeline, from the industry point-of-view, was to remove transportation bottlenecks and remove the limits to future growth on the Alberta oilsands.
The extension was first proposed in 2008. President Obama declined permission — precisely due to the risk to the sensitive Sandhills region — in 2012. This was reversed by President Trump this year.
A key element of the decision process was an independent analysis by University of Nebraska professor Dr John Sansbury:
"While TransCanada estimates that the Keystone XL will have 11 significant spills (more than 50 barrels of crude oil) over 50 years, a more realistic assessment is 91 significant spills over the pipeline's operational lifetime. TransCanada arbitrarily and improperly adjusted spill factors to produce an estimate of one major spill on the 1,673 mi (2,692 km) of pipeline about every five years, but federal data on the actual incidence of spills on comparable pipelines indicate a more likely average of almost two major spills per year. (The existing Keystone I pipeline has had one major spill and 11 smaller spills in its first year of operation.)"
"Analysis of the time needed to shut down the pipeline shows that response to a leak at a river crossing could conservatively take more than ten times longer than the 11 minutes and 30 seconds that TransCanada assumes. (After the June 2010 spill of more than 800,000 US gallons (3,000,000 L) of crude oil into a tributary of the Kalamazoo River, an Enbridge tar sands pipeline – a 30-inch (760 mm) pipe compared to the 36-inch (910 mm) Keystone XL – was not completely shut down for 12 hours.)"
"Realistic calculations yield worst-case spill estimates of more than 180,000 barrels (7,600,000 US gal; 29,000,000 L) in the Nebraska Sandhills above the Ogallala Aquifer, more than 160,000 barrels (6,700,000 US gal; 25,000,000 L) of crude oil at the Yellowstone River crossings, more than 140,000 barrels (5,900,000 US gal; 22,000,000 L) at the Platte River crossing and more than 120,000 barrels (5,000,000 US gal; 19,000,000 L) at the Missouri River crossing."
"Contaminants from a release at the Missouri or Yellowstone River crossing would enter Lake Sakakawea in North Dakota where they would adversely affect drinking water intakes, aquatic wildlife, and recreation. Contaminants from a spill at the Platte River crossing would travel downstream unabated into the Missouri River for several hundred miles affecting drinking water intakes for hundreds of thousands of people (e.g., Lincoln, NE; Omaha, NE; Nebraska City, NE; St. Joseph, MO; Kansas City, MO) as well as aquatic habitats and recreational activities. In addition, other constituents from the spill would pose serious risks to humans and to aquatic species in the river."
"The worst-case site for such a spill is in the Sandhills region of Nebraska. The Sandhills are ancient sand dunes that have been stabilized by grasses. Because of their very permeable geology, nearly 100 percent of the annual rainfall infiltrates to a very shallow aquifer, often less than 20 feet below the surface. This aquifer is the well-known Ogallala Aquifer that is one of the most productive and important aquifers in the world."