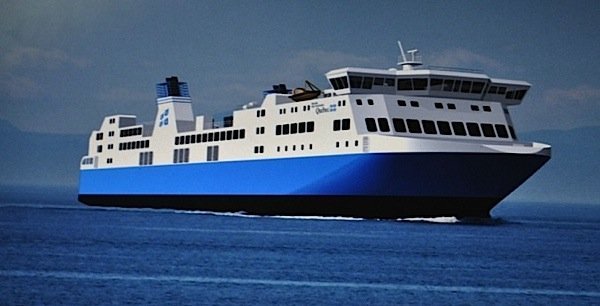 The first liquefied natural gas-powered ferry "of its kind" to operate in North America left the Italian shipyard where it was built on April 1 and set sail for Québec. The F A Gauthier, which is also the first LNG ship built by Fincantieri in its shipyard in Castellammare di Stabia (Naples), was built for the Société des traversiers du Québec (STQ), the Québec crown corporation that operates the province's ferries.
According to Fincantieri, the new vessel represents a "genuine technological revolution," featuring the most advanced energy-saving and environmental-impact solutions, which will enable the reduction of CO2, NOx (nitrogen oxide) and SOx (sulphur oxide) emissions. The dual fuel ship's propulsion system is powered by four diesel-powered electric generators that can run on either diesel or LNG.
At 133 metres long and 22 metres wide, the F A Gauthier has a maximum speed of 20 knots and can carry 800 passengers and 180 vehicles. The ship is also built to break sea ice and to operate in the harsh climatic conditions of the Gulf of St. Lawrence.
According to the American Oil & Gas Reporter, there are now just 30 LNG-powered vessels in service worldwide, and another 30 in design or construction. Some of these are destined for Canada. The government of British Columbia has said it intends to switch to LNG for all ferries operated in the province, and Quebec has two more of the vessels currently on order. The first ship with LNG propulsion was launched in 2001 in Norway.
LNG offers an important economic advantage to shipowners, as well as the environmental benefits to the public. The cost of LNG is considerably below that of marine diesel; depending on market conditions, the cost saving can be 50 per cent or more. Since fuel costs are second only to labour costs in operating a fleet of ferries, such large savings are attractive. B.C. Ferries has said that running five vessels on LNG will save it about $12 million a year in fuel costs, about 10 per cent of its total annual fuel bill.
Stricter emissions regulations are helping push adoption of LNG-powered shipping. Both east and west sea coasts of North America, as well as the coasts of Northern Europe are classified as emission control areas (ECAs) under the terms of the International Convention for the Prevention of Pollution from Ships. The new Italian-built ferry coming to Canada meets these ECA requirements, which will become stricter over the next ten years or so.
The technical obstacles to implementing LNG as a shipping fuel have been eliminated, according to experts (Det Norsk Veritas), and there have been no major safety incidents recorded. In fact, the biggest impediment to the wider adoption of LNG in the near term is the lack of production infrastructure. A report by the American Clean Skies Foundation notes that development of the infrastructure could erode the cost benefits of using LNG.