TransCanada Pipeline's Energy East Pipeline project, which will carry 1.1 million barrels of crude oil from Alberta to New Brunswick, is to go ahead, according to reports. The project involves converting several thousand kilometres of existing natural gas pipeline to carry oil, as well as laying new pipe, in six provinces, from Alberta through New Brunswick. It also entails building the facilities needed to move the oil: pump stations, tank terminals, and marine facilities to enable the oil to be loaded onto ships. The project has an estimated cost of $12 billion.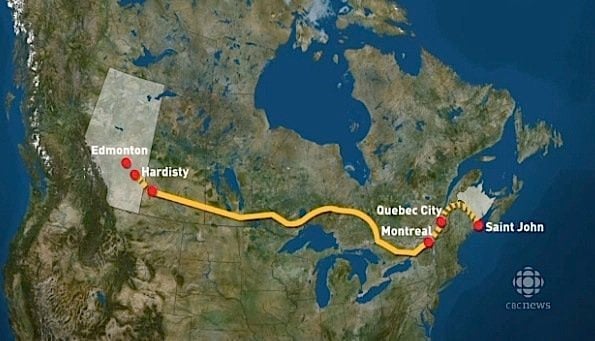 The premier of Alberta, Alison Redford, called it a "nation-building project" that will help to diversify the economy and create jobs across the country.
Almost immediately, the first regional investment associated with the Energy East Pipeline project was announced in Saint John, New Brunswick. Irving Oil and TransCanada have formed a joint venture to construct a $300 million marine terminal at Irving Canaport in Saint John. The terminal will give Canadian oil producers access to world markets, an Irving Oil release states, "via the world's largest crude-carrying vessels."
Irving Oil currently imports 100 million barrels of crude each year at its Canaport facility. The new arrangement with TransCanada will add to the supply for the 300,000 barrel per day refinery.
Work is expected to begin on the marine terminal in 2015, and will coincide with developments of the Energy East Pipeline. The terminal project will create "hundreds of jobs" during construction and "up to 50" long-term, high-skill jobs when it is operational. It will be operated by Irving Oil.
TransCanada must get regulatory approval before it can proceed with the pipeline. The premiers of Alberta and New Brunswick have already declared their support in principle. Canada's minister of natural resources, Joe Oliver also said he "welcomes" the prospect of moving oil from Western Canada to Eastern Canada.