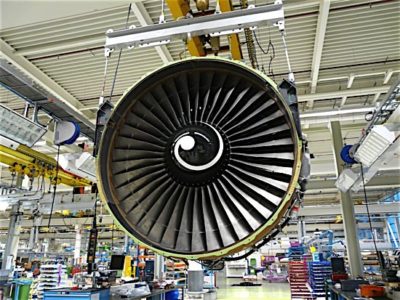 Canada's manufacturing sector continued to grow in March according to the Markit Canada Manufacturing Purchasing Managers' Index (PMI) which measures business conditions in the sector. The PMI rose from 54.7 in February to 55.5 in March. Stronger domestic demand in the energy sector pushed new orders higher, and employment reached its highest level since June 2012. New export orders, however, were unchanged in March.
According to the latest numbers from Statistics Canada, covering the month of February, Canada posted a larger than expected trade deficit with the world, due to a 2.4 per cent decline in exports, which fell to $45.3 billion. Imports, meanwhile, were up 0.6 per cent, to $46.3 billion. The trade balance with the world was a deficit of $972 million. The February drop in exports came after a record high of $45.3 billion in January.
However, due to a decline in imports from the US, down 1.6 per cent to $29.9 billion, Canada's trade surplus with that country grew slightly, from $4.4 billion in January to $4.5 billion in February. The decline in exports was widespread, Statistics Canada reports, including farm, fishing and intermediate food products, aircraft and other transportation equipment and parts, and consumer goods. Aircraft exports led the decline, dropping 23.1 per cent to $447 million for the month. It was the third consecutive drop for the aircraft industry.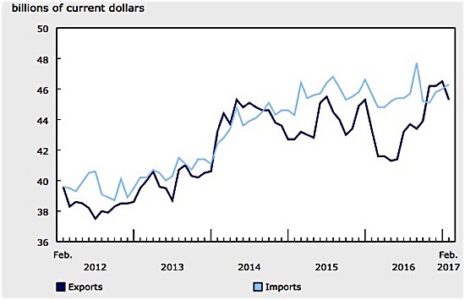 The decline in aircraft exports notwithstanding, the aerospace and defence sector supports more than 240,000 jobs and contributes $31 billion annually to Canada's economy, according to the federal government.
The federal government has also just announced an investment, along with Ford of Canada and the province of Ontario, in the automaker's Ontario operations. The $1.2 billion investment will create and maintain 800 jobs, a government statement says, and will strengthen Ford's powertrain engineering research capabilities in Windsor. New research and engineering centres will be set up in Waterloo and Oakville.
Unifor leader Jerry Dias, who made securing new investment in Ontario by all three Detroit automakers the cornerstone for his collective bargaining strategy last fall, has welcomed the news of the