Nissan Canada said today that for the first time it has sold more than 100,000 vehicles in a single calendar year. Last year the car maker sold 82,604 units, a record at the time. The car that hit the milestone was a 2015 Nissan Pathfinder Platintum, sold in Thornhill, Ontario.
The president of Nissan Canada, Christian Meunier, credits a mix of hard work by the company's dealers and good planning for the brand's growing success. The planning has to do with "bringing the right cars to Canadians."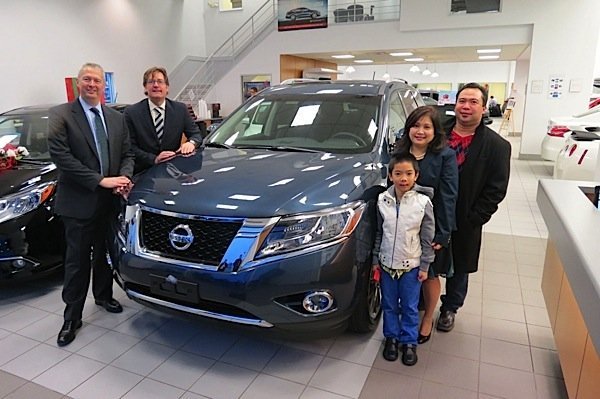 This year, Nissan launched two new models, the Rogue and the Micra, both of which have been "very successful" in Canada. The Micra, unusually for Nissan, was introduced in Canada but not offered in the United States. The Micra is an entry-level car, competing with Nissan's Versa Note, but appealing to different customers, said Meunier. Since the Micra went on sale at dealerships in April, with a MSRP of $9,998, sales have exceeded 7,000 units, he said. The Versa Note has sold 12,000 units to date this calendar year. Nissan's share of the entry-level market is 22 per cent as of the end of November. Next year the company will launch the Micra Cup, "Canada's most affordable racing series featuring Canada's most affordable car."
Nissan also dominates in the all-electric segment with the LEAF. It has sold 1,020 units for 2014, an increase of more than 130 per cent over last year.
In the compact crossover segment, the Nissan Rogue is a top seller, with 26,729 units sold at the end of November. That's an increase of 78 per cent over last year. The new 2015 Murano, now in dealerships, is expected to continue to do well.
Coming soon is the redesigned Nissan Titan, its full-size pickup truck. It will be shown for the first time at the Detroit Auto Show in January, according to The Car Guide. The Titan has not sold well to date, and Nissan is not top of mind with the public when it comes to trucks, but the redesign is meant to give it a more rugged, all-American look that will convince buyers to take a look. The Titan is powered by a Cummins 1500 diesel engine, the only truck on the market with that engine.