The concept of wheels that turned 90° and allowed for horizontal driving and crabwalking was first seen in Paris in 1927, on what was then a novel front-wheel drive car. In the 1930s, there was also an American invention called The Park-Car, which saw the vehicle modified with a fifth wheel that lowered the ground to help parallel park.
Hummer's Crabwalk and Hyundai's "e-steering"
It seems as though every car brand is releasing electric vehicles nowadays, but one of the more exciting innovations to electric vehicles is the crabwalk and steering concept. Hummer recently released an EV that's truly something different. This large SUV has a gargantuan 212kWH battery with a 1000 bhp electric motor. It weighs 4111kg, and yet it can still achieve a 0-60mph sprint in 3.3 seconds. A single charge gives drivers the capacity to travel 350 miles. [1]
Hummer's crabwalk showcased:
And yet, none of these are the most novel things about the vehicle; instead, it's a feature called CrabWalk, a unique steering mode in which all four wheels point in the same direction. CrabWalk allows the vehicle to move diagonally, offering heightened maneuverability when parking or driving.
This capability took the automotive world by storm. Now it seems, South Korean manufacturer Hyundai has raised the bar even further.
Hyundai's new e-steering system:
Exciting but practical steering innovations
The mind behind GMC's "crabwalk" innovation is Mike Colville. He's GMC's senior manager for complex feature integration, as well as a gearhead and competitive off-road racer that's built over a dozen custom vehicles out of his own home.
Since day one of the GMC Hummer EV's project back in 2019, Colville has been involved. Colville has had experience with rock crawlers from his experience building off-roaders, ones that use both front and rear steering. Four-wheel drive is a common feature for vehicles that crawl over rocks, and it isn't a new thing; however, Colville recognized that applying this in the form that the CrabWalk takes was.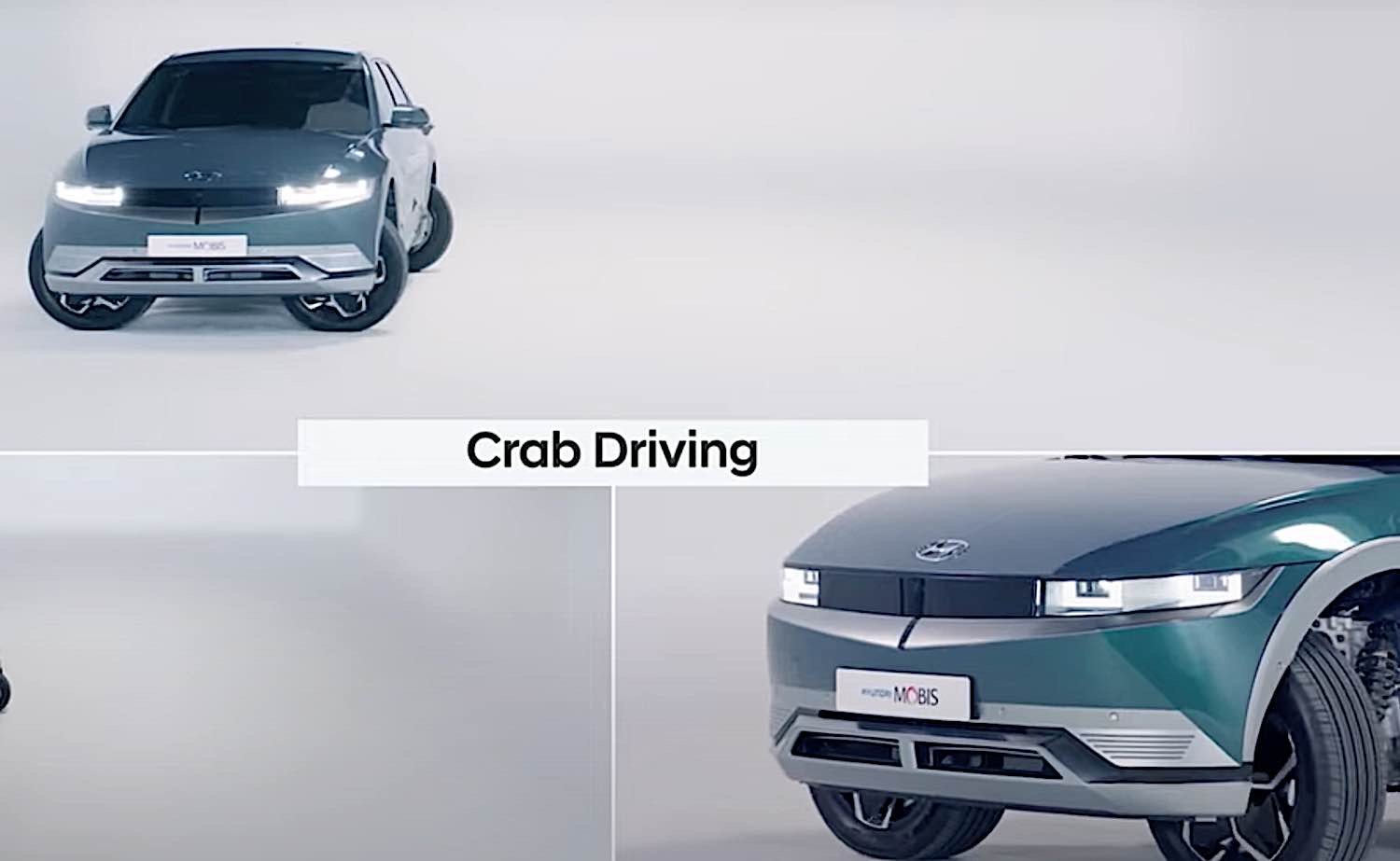 Crabwalk – together with a solid electric vehicle SUV — definitely brought status and bragging rights to proud owners. Looking past the "early adopter" value, there are practical uses to various forms of four-way steering.
The new Hummer uses this feature to navigate tight turns. Turns that would otherwise be potentially damaging or dangerous are now possible because four-wheel steering meant that they could taken diagonally. Drivers could scuttle around objects in a crablike fashion  because the rear wheels match the steering angle up to 10° in Terrain mode. [2]
Hummer's crabwalk offroad:
GMC demonstrated the CrabWalk's use in a rocky off-road setting. A trail that had a sharp angle which might normally require a multi-point turn to get through was used. Yet, the Hummer engaged CrabWalk and moved along the trail with no issues at all.
Drivers don't need to be constantly scooting through a desert to warrant getting this vehicle, however. The development team also used a winding dirt trail for reference, and it proved tough for a Chevy Colorado ZR2 to handle (it ended up with a broken taillight). Yet the CrabWalk enabled the Hummer EV to go up and around the hill, bodywork untouched. [3]
The Hummer EV's turning circle comes in at 44.3 feet when using only its front wheels, but with four-wheel steering it tightens to 37.1, a reduction of over seven feet. This ability makes it useful around town as well, in itty-bitty parking spaces.
The four-wheel steering system can be used without the CrabWalk in Auto mode, where the rear wheels turn opposite to the front wheels for low-speed maneuvers but turn in the same direction at higher speeds. [4]
However, Hummer isn't the only one that's been doing some innovating.
Hyundai's response to Hummer's CrabWalk
There aren't enough good things to say about the Hyundai Ioniq 5. It's an excellent SUV, taking on everyday commutes, road trips, snow, and light off-roading easily in its stride. It's spacious and comfortable for both passengers and their luggage without sacrificing safety and relative efficiency.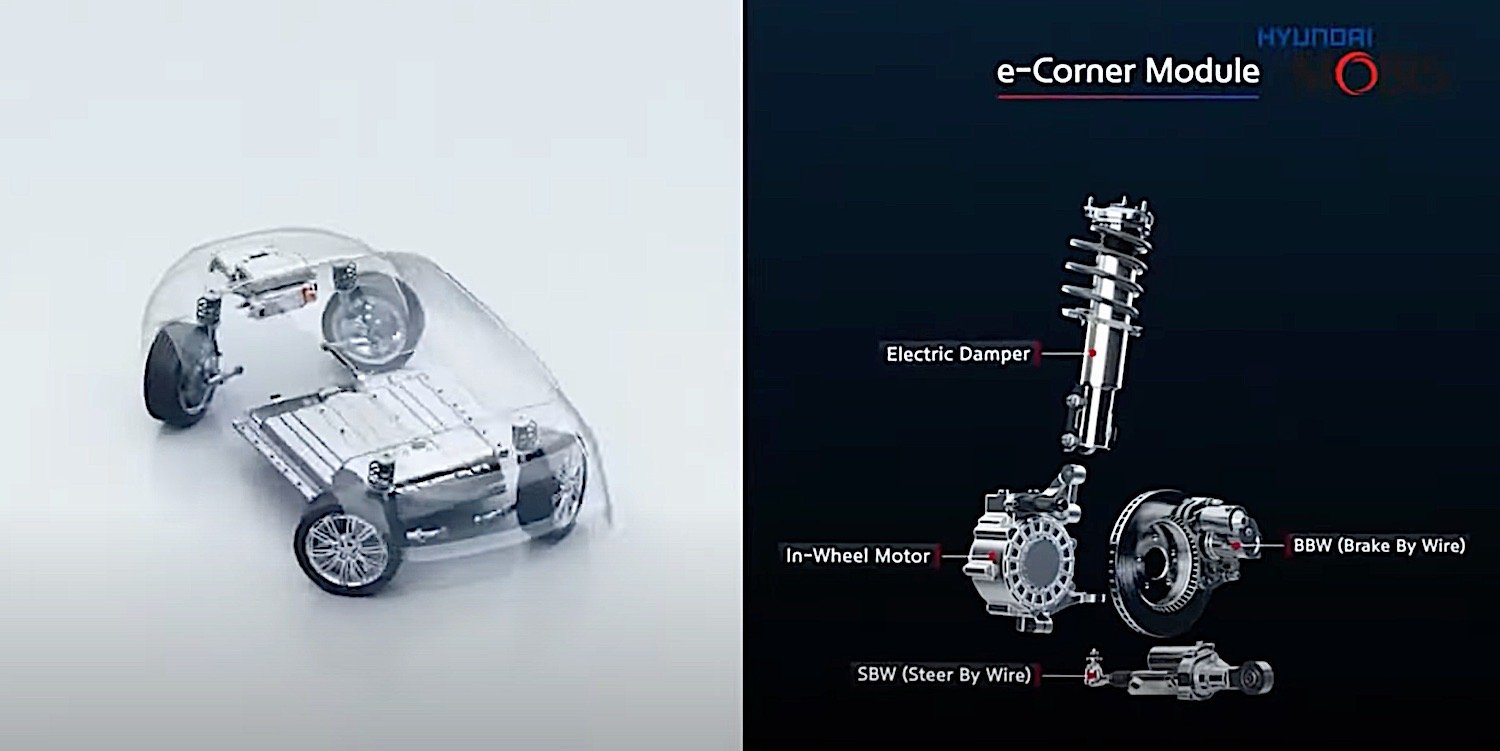 It's a fully electric SUV, which is a big contributor to how it completely breaks the mold of cars that are typical of this category. Its sleek exterior and electric nature make it modern, but that modernity is made approachable and familiar by its form factor and controls.
It's one of the quickest-charging EVs on the market currently due to its 800-volt electric architecture and has charge times that are comparable to road trip rest stops. What's more is that it's only $40,000 to start, making it the most affordable vehicle with these technological offerings on the market. [5]
The Ioniq 5 ticks all the boxes for a good SUV and then some, thanks to its modernist take on this style of car. The only thing that could move the SUV even higher in rank and cause it to rival Hummers SUV would be something akin to Hummer's CrabWalk.
Apparently, Hyundai is set to do just that. While it's likely not going to be available for a little while, a crab walking mode is set to be introduced in the Hyundai Mobis M. Vision TO and HI autonomous people movers.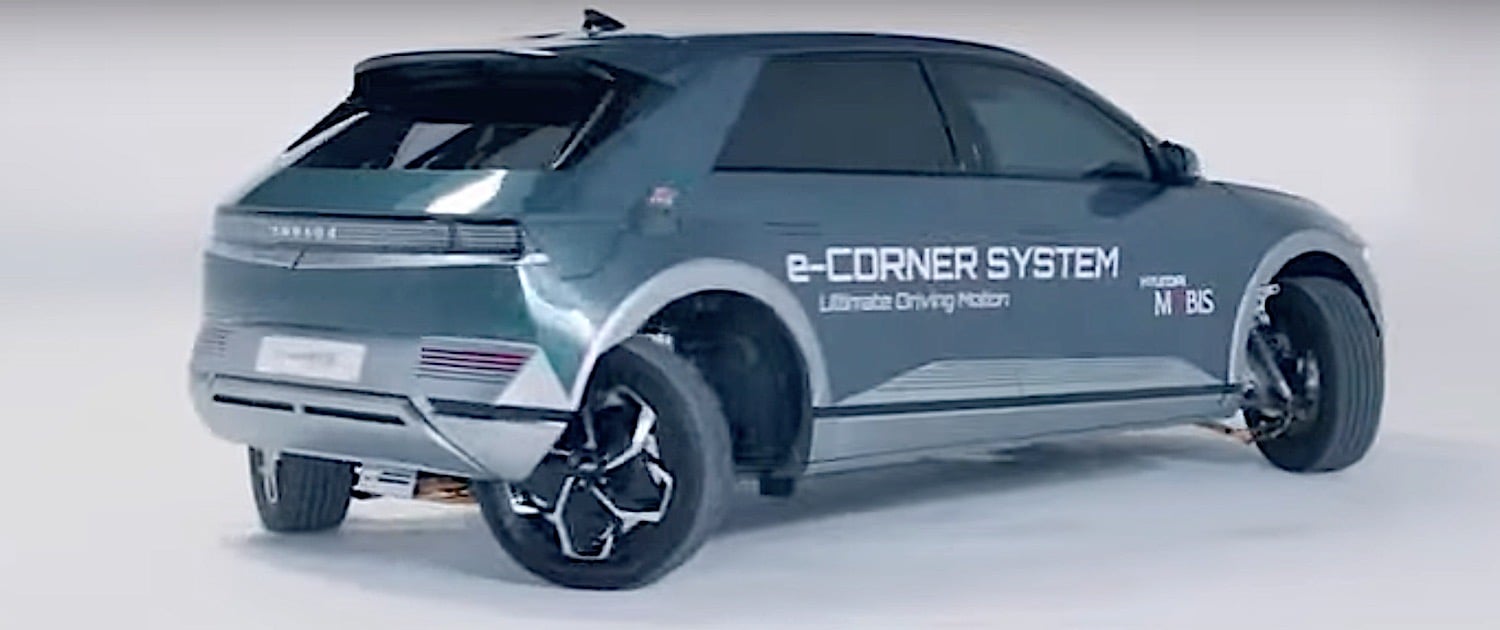 The e-Cornering System is a package. It contains an electric damper, electric motor, steer by wire, and brake by wire. It's a module that's designed to fit into a huge variety of plug-in vehicles without wasting space. The concept itself was introduced back in 2018, meaning it's technically the Hummer CrabWalk's predecessor. [6]
At CES 2023 however, Hyundai Mobis showed off this system installed into an Ioniq 5. The system offers users the ability to spin and pivot the vehicle in place, parallel parking that's as easy as turning the wheels 90° and driving horizontally into a parking space, and even the possibility of a pivot turn. [7]
An even more versatile crabwalking system?
Hyundai's e-Cornering System bolts to each of the vehicle's corners and has its own suspension, electric motor, and steering servo. The standard Ioniq 5 has AWD and as such comes with one front motor and one rear motor, but its stock drive axles wouldn't go with this kind of setup. At a full opposite lock, the front and rear tires are practically looking at each other.
The Hummer's CrabWalk works at a slight forward angle, but the steering angles on the Ioniq 5 mean that it can do a real, fully sideways crab walk. It can also drive in a diagonal line, pivot in place, and perform a real zero-degree turn without each wheel turning individually, because all four wheels can steer. [8]
Of course, this capability doesn't come without some hassle and sacrifice. In order to accommodate the e-Cornering System's ability to turn 90° in any direction, the Ioniq 5 needs its front and rear bumpers cut. There will also likely be extensive changes to both its subframes and its wheel wells to make space for the system, whose packaging is quite bulky. The car does retain its lower control arms however, even if they are modified so that they can line up with the system's kingpin inclination.
The system's packaging needs far less compromise and is much tidier when integrated in a vehicle that's designed for it to fit into, as seen on the display of the M.Vision To, Hi, and e-Cornering System. The engineering and ingenuity required to create a system that does what the e-Cornering System does while residing in such a tidy package is astounding. [9]
The earliest estimates for Hyundai's e-Cornering System to begin commercial production are sometime in 2025, and it should hit the market soon after. Hopefully the system does become available soon, but until then, users can enjoy both the Hummer EV SUV and the Hyundai Ioniq 5.
Sources
[1]
Moveelectric – First GMC Hummer EV lands in the UK
[2]
The Drive – Meet the Father of the GMC Hummer EV's CrabWalk
[3] [4]
The Drive – Here's When You Would Actually Use the GMC Hummer EV's CrabWalk Feature
[5]
Motortrend – The Hyundai Ioniq 5 Is the 2023 MotorTrend SUV of the Year
[6]
Inside EVs – Hyundai Ioniq 5 With e-Corner Modules Can Rotate Its Wheels 90 Degrees
[7]
Engadget – Hyundai managed to put its 'crab-walking' e-Corner technology into an Ioniq EV
[8] [9]
Motortrend – Oh, Your Hummer Can Crab Walk? Check Out What This Hyundai Can Do